The MOPAR Power Club "B" body collection
(the early years...)
Above is Steve's 1963 Plymouth Savoy. It's presently equipped with a 440 C.I.D. V8 with six barrel carburetion, automatic transmission, power steering air conditioning and cruise control. A really nice car! The bottom photo is from a trip to Long Island Dragway for time trials.
---
Al L's 1963 Plymouth Belvedere (above) was separated from Steve's Savoy (top of page) at birth. While Steve's car leads a leisurely life of cruise nights and drive-in movies, Al's has been built for racing. The car is currently equipped with a legendary 426 Hemi engine (10/31/66 casting date, or "the great pumpkin" as Al calls it). The Hemi is fortified with a dual four barrel carburetor tunnel ram induction setup with 2 750CFM Holley "double pumpers", a Turbo Action transmission with 5500RPM stall speed converter, a Dana rear end with 5.13:1 gears and a spool. Best times at the track to date: 10.50s at 125 MPH through the mufflers. Unbelievably, the car is driven to all club functions and cruise nights. Al's license plate frame says it all.
---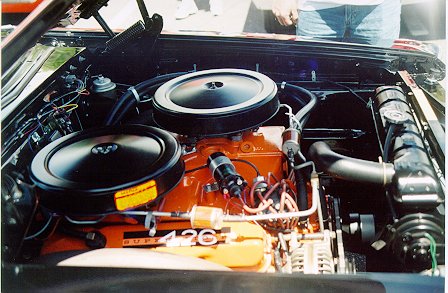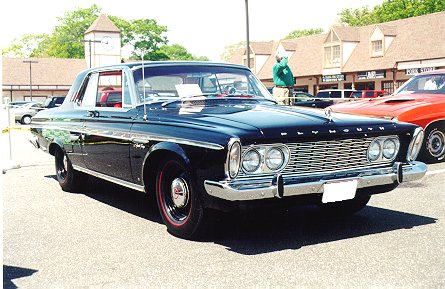 Above and below, Bill's 1963 MAX WEDGE Plymouth Sport Fury two door hard top. It's equipped with the dual four barrel 426 cubic inch "Max Wedge" engine, pushbutton automatic transmission, 8 3/4" rear with 3.91:1 axle ratio, non-power steering and brakes, and not much else. It was equipped to GO. Check out the window sticker here.
---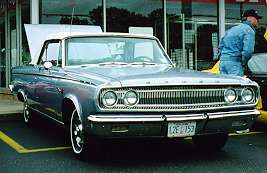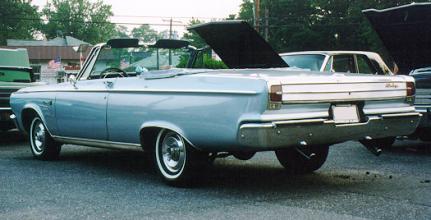 Above is Bob C's 1965 Dodge Coronet 500 convertible. The Coronet is equipped with a 383/four barrel V8, automatic pushbutton transmission power steering, power brakes and cold factory air conditioning.
---
Featured above and below are photos of Jeanne K's 1966 Dodge Charger. This stunning silver/red interior car is equipped with a 383 cubic inch V8 with four barrel carburetor, automatic transmission, power steering and factory installed air conditioning. Note the folding rear seat (below right). Perfect for hauling lumber from the Home Depot.
---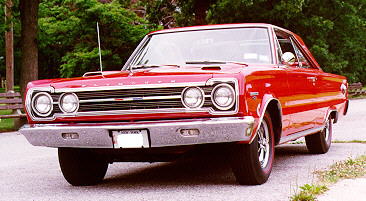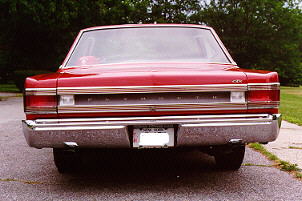 Shown above is Al M's 1967 Plymouth Belvedere GTX. He's the second owner of this 440 "Super Commando" V8 equipped car, which also features and automatic transmission, 8 3/4" rear with 3.23:1 gear ratio, factory 8-Track, Magnum 500 wheels and red-line tires.
---
Return to MOPAR Power Club member rides index
Return to Lee Herman's MOPAR Page
Page last updated 01/27/01 05:38 PM -0000