My 1969 Dodge Dart GT Convertible
One of 501 built with 273 C.I.D. V8 & Auto Trans
Now has a 1969 340 C.I.D. V8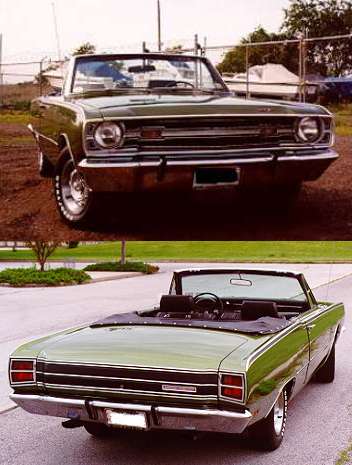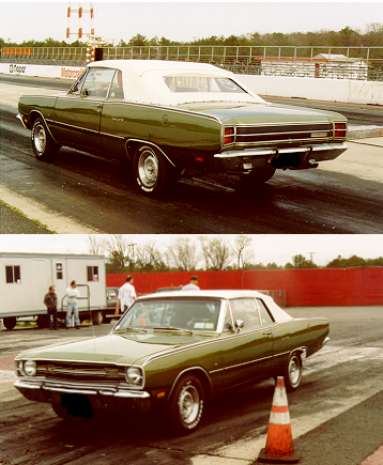 I purchased the Dart in May 1992. My original intention was to buy a "beater" and slowly restore it, something I could "take anywhere and not worry about". After looking at a number of different cars (and wanting a 1969 Dodge Charger R/T SE), I stumbled across an advertisement in the New York Newsday classified section one Friday afternoon...

(Above - where it all began)
The ad caught my eye and I called the owner immediately. I saw it that day, liked what I saw, but decided to go to Spring Englishtown the next day. I didn't find anything that appealed to me as much as the Dart had, and returned to the owner of the Dart on Sunday. After some skillful negotiation, the car was mine. The rest (as they say) is history...
The Dart was ready to go without any significant work and was/is too nice a car for me to "take anywhere and not worry about it".
At this point, the restoration (mechanical/appearance) is approximately thirteen years old, and the engine/transmission has over 30,000 miles on it (including a few miles worth of passes down the quarter mile).
Over the years, I've installed a new convertible top, new interior, changed the wheels from steel wheels and hubcaps to the rallye wheels shown in the photos and done lots of detailing under the hood and elsewhere. Unfortunately, after thirteen years, the car is getting to the point that it will need an exterior restoration. Most of my friends think that the car's perfect and that I'm crazy, but I still consider the car to be a perfect 20/20 car. In other words, at 20 feet or 20 MPH it still looks great!
Mechanically, the car has required little attention. The only problem encountered in six years of ownership was the Carter Thermoquad (Thermobog?) that came with the car. I replaced it in 1994 with an Edelbrock Performer and have also made other minor mechanical upgrades (see mechanical specifications below). The car has proven to be very reliable, and I feel that I could drive it anywhere and not worry about mechanical failure.
As time and finances permit, I hope to completely pull apart the car and have body/paint work done. I'll probably remove the engine/transmission to "freshen" them too. I'm hoping to be able to begin the process in 2000. Until then, I'll continue to show and enjoy driving the car.
---
Mechanical specifications:
1969 340 C.I.D. V8, bored .030" over
10.5:1 Compression Ratio
MOPAR Performance "Purple Shaft" Camshaft
MOPAR Performance M1 Intake Manifold
MOPAR Performance Electronic Ignition
Edelbrock Performer Series 600 CFM Carburetor
Factory exhaust manifolds, dual 2 1/4" exhausts with crossover pipe
Flowmaster mufflers
Torqueflite 727A Automatic Transmission
8 3/4" Rear, 3.91 Axle Ratio, with Suregrip
Power Steering
Manual Drum Brakes (10 x 2 1/4" front, 10 x 1 3/4" rear)
Color code F5 "Medium Metallic Green"
1970 Chrysler Rally Wheels (14" X 5.5")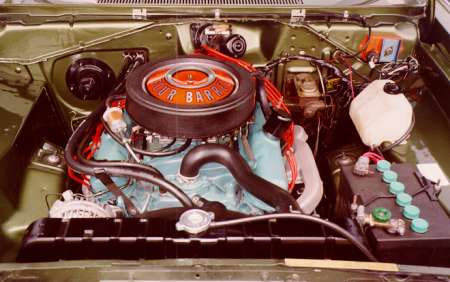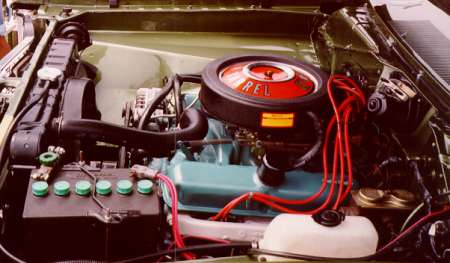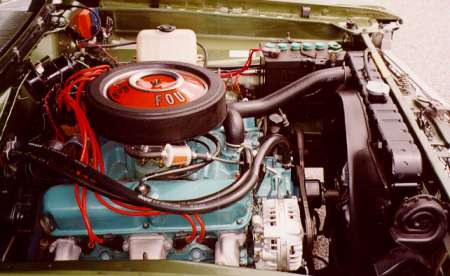 Driven frequently (nice days only!!), occasionally raced, never trailered.
Best time at dragstrip ...
...14.00 sec. quarter mile at 98 MPH (with LOTS of wheelspin).
Racing tires will probably drop the car's best times into the mid to high 13 second range. The P205/70R14 Goodyear Eagle ST tires mounted on 5.5 inch wide wheels aren't well suited to racing.
Time trials during December '97 were seriously hampered by traction problems. My first run (power braking to a mere 1,500 RPM and shifting manually at 6,000 RPM resulted in the car going sideways (and a 15.2 second quarter mile time). The best of my subsequent runs was 14.4 seconds. I had to feather the throttle "off the line", which apparently isn't enough when you have 3.91:1 gears, a decent camshaft, and a 2,800 RPM stall speed converter.
A set of 15" wheels drilled to the proper wheel bolt pattern for my Dart, with a set of "shaved" B.F. Goodrich Comp T/A tires did nothing to help my traction problems. Any possibility of future racing will require a sticky set of drag-strip tires. Corvettes beware!

Time Trials at Long Island Dragway, Westhampton, New York, June 1994 (above)
Time Trials at Raceway Park, Englishtown, New Jersey, June 1996 (below)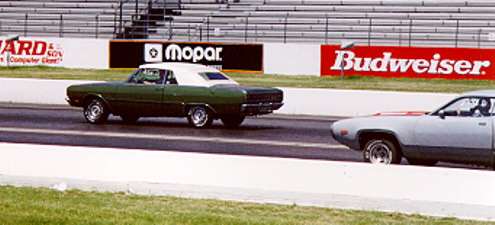 Time Trials at Long Island Dragway, Westhampton, New York, December 1997 (below)
My friends Howie, Steve, and I went racing to test his new engine, a Chrysler "crate engine", 360 cubic inch, 380 horsepower V8. With the new engine in place, Howie's car was able to run a best time of 13.2 seconds at 108 MPH, limited only by 3.55:1 gears and insufficient traction. The photos directly above and below show me getting "smoked"...
Howie's '65 Plymouth Valiant is featured elsewhere within this site.

Below, what it's all about. Racing with Steve K in May 1999 (who's responsible for taking the following photos)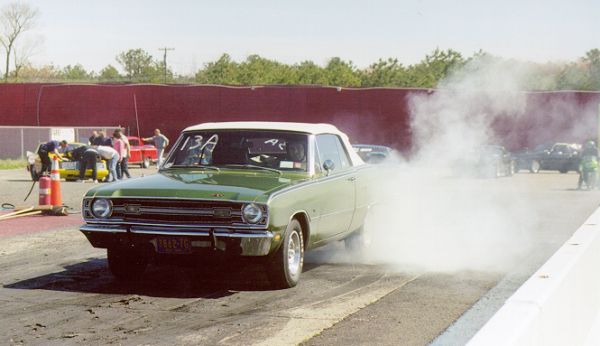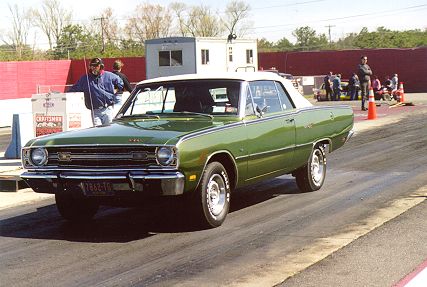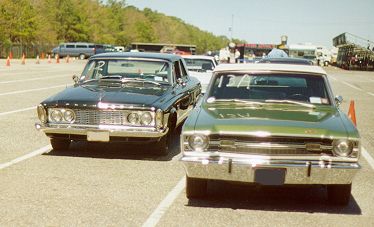 ---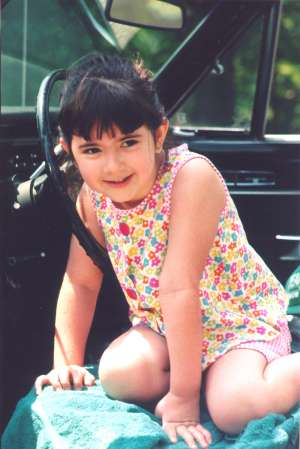 The Dart, driven by my niece, Brianna Corinne at 5 1/2 years old on 6/17/98.
---
Page last updated 01/27/01 11:40 PM -0000.