The Herman Family
Automotive Scrapbook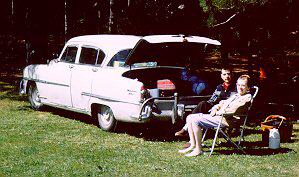 Pictured above is my grandparent's 1954 Chrysler Windsor.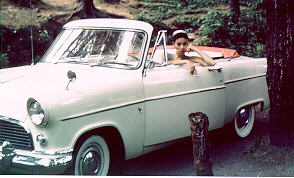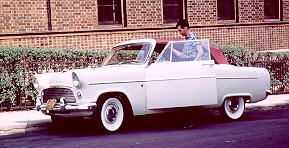 Above left, my mom models the 1959 Ford Consul. Four cylinder, "three on the tree" driving excitement from Ford of U.K. It rusted itself into oblivion in the late '60's. On the right, my father puts up the top (no power top, unlike my modern '69 Dart).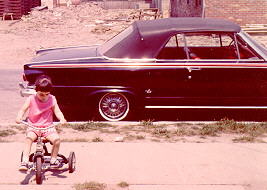 Above, my parents 1964 Dodge Dart GT convertible. 225 C.I.D. "slant six", and pushbutton automatic transmission. Photo taken in the late '60's, and my "little" sister (I wasn't born yet!) is in the foreground.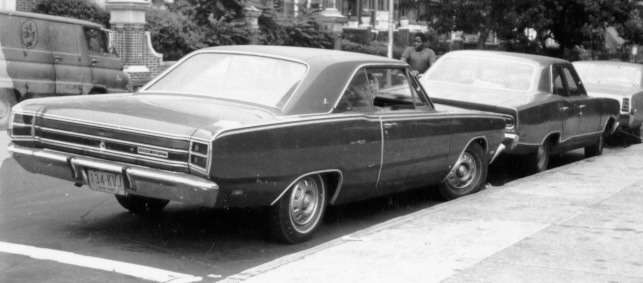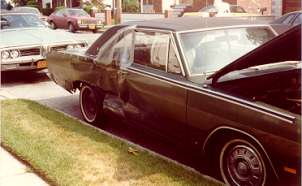 The car shown above was my mom's 1969 Dodge Dart GT hardtop. It had a 225 C.I.D. "Slant Six", automatic transmission on the column, power steering and manual drum brakes. It was F8 green with a black vinyl top and bucket seat interior. Options included and A.M. radio and factory air conditioning. It was "murdered" in 1981 when some knucklehead hit the car while my mother was driving it. Photos of what happens when a '69 Dart is broadsided by a '77 Oldsmobile are above. The Dart was replaced by a 1980 Toyota Corolla (a good car, but nothing like the old Dart). Mom's Dart was the main inspiration for my purchase of a 1969 Dodge Dart GT convertible. Pictured in front of the Dart is my Grandparents 1969 Dodge Coronet 440. Stolen in 1977, it was replaced by a 1977 Buick Century, which was later replaced by a 1987 Buick Century (photo below). The '87 Century, driven by me since '94 was sold and replaced by a 1999 Toyota Camry Solara. Photos and details below...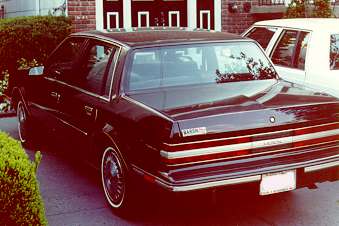 The 1980 Toyota Corolla is shown parked in front of my parents 1972 Dodge Charger. The car was blue (don't remember the color code), with a black bucket seat interior and black vinyl top. It had a 318 C.I.D. 2bbl, automatic transmission on the column, factory air conditioning and an AM radio. It died of old age and rust in 1983 to be replaced by...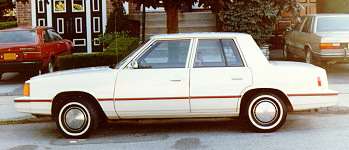 ...a 1983 Dodge Aires. Can you say "LEMON" boys and girls? White with a red interior, equipped with the 2.2 liter engine, automatic transmission, air conditioning, and A.M./F.M. stereo, the car never ran properly two days in a row. Major problems included the Holley carburetor, the timing belt and the catalytic converter.
Note: At my mom's request, I'm asking any one who sees these photos and has an experience with a K-car (or any one of its variations) to email me with your experiences (good or bad). If you've got a story to tell, my mom would love to read about it (and we have lots of stories to tell!).
For the first time *ever*, my parents got rid of a car before it approached 100,000 miles. At a mere 57,000 miles it was replaced by...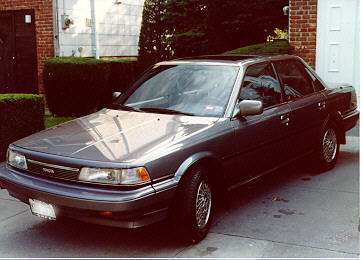 ...a 1988 Toyota Camry LE. Sold at 101,000 miles, it's been replaced by a '98 Honda Accord EX-V6 sedan. Photo below.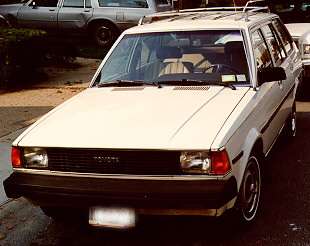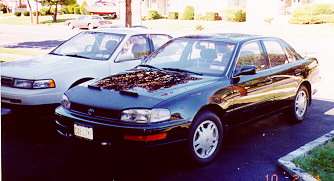 Pictured above (to the left) is dad's 1982 Toyota Corolla wagon, sold in 1991 with 103,000 miles on it and replaced by a 1991 Nissan Maxima GXE (above right, background, now with over 87,000 miles). My current daily driver is in the foreground, a 1993 Toyota Camry XLE V6, now with 76,000+ miles which replaced my first car...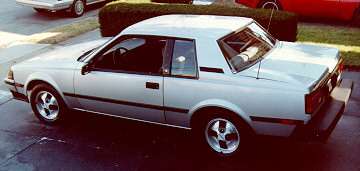 ...a 1985 Toyota Celica GT. An incredibly fun little car. Economical, reliable, attractive, and semi-practical. The last year for the rear wheel drive Celica. I'd really like to buy a convertible version of that car!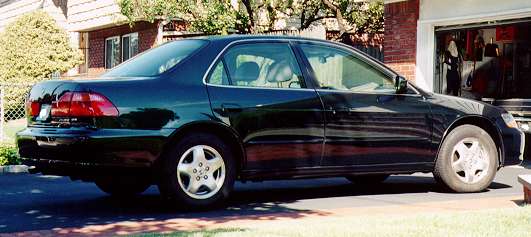 Above - Moms' new toy. A 1998 Honda Accord EX V6. Lots of power, lots of toys. I somehow figured that a dose of "new car smell" would cure my mother of missing her '88 Camry. I was right.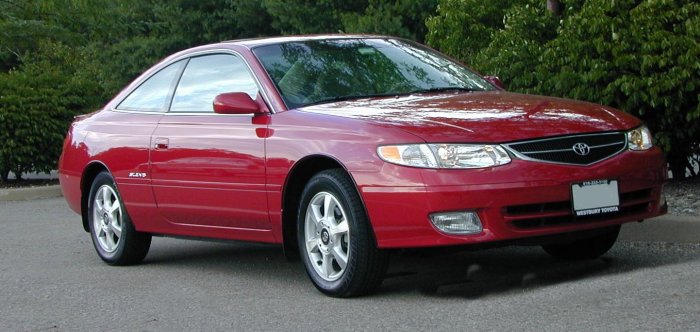 My other toy, A "red flame metallic" 1999 Toyota Camry Solara SLE V6. It's loaded with power everything, ABS, AM/FM/CD Toyota/JBL 200 watt/six speaker sound system, leather interior, automatic climate control, moonroof, the "sport package" and lots more good stuff. It's a pleasure to drive, and I expect that it will be just as reliable as my '93 Camry sedan.
---
Return to Lee Herman's MOPAR Page
Page last updated 01/27/01 11:45 PM -0000.