The MOPAR Power Club "miscellaneous MOPARs" collection
(too few for any one page, but significant nonetheless)
Featured above is John D's 1980 Dodge St. Regis. To find one of these cars is unusual enough, but this one is equipped with the A38 police package. Originally ordered for the New Jersey state police, it was "over-ordered", and ended up being sold to a civilian. This unusual vehicle is equipped with the 360 cubic inch V8 (heavy duty version) with four barrel carburetor, dual exhaust system, transmission, power steering, and oil coolers, heavy duty silicone radiator hoses, 100 ampere alternator, 9 1/4" rear end with 2.94:1 gear ratio, and a factory reinforced chassis. The car has never been restored, is used as a daily driver, and still looks like new.
---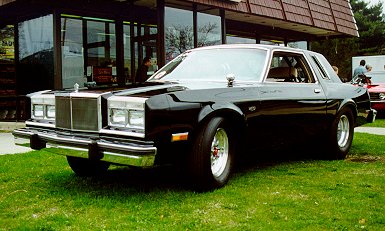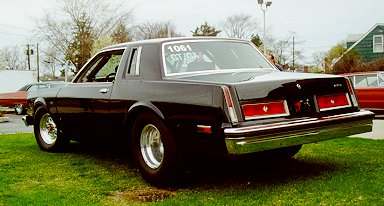 Above and below, Chris T's wild 1980 Chrysler LeBaron. No longer a slant six sleeper, this GT/GA drag legal car is now equipped with a 360 cubic inch V8, A904 Torqueflite automatic transmission with trans-brake, 4 link rear suspension, 12 bolt Chevrolet rear with 5.56:1 gear ratio, four wheel disc brakes and 14X32 Firestone drag slicks. As shown, the flying brick has run a best quarter mile of 10.6 seconds and was a class record holder in 1992.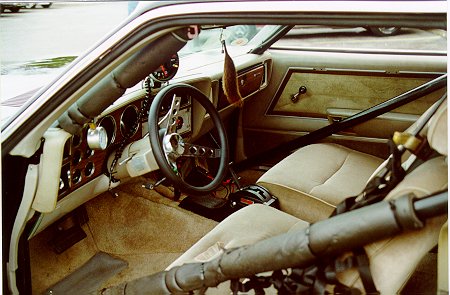 ---
Shown above is Shawn K's Flame Red 1999 Dodge Dakota R/T 5.9 Liter. This truck is loaded with goodies such as its 360 cubic inch "Magnum" V8 (standard 250 horsepower, 345 foot-pounds torque), 46RE four speed automatic transmission, 8 1/4" rear axle with 3.92:1 gear ratio and factory lowered suspension (1" lower than stock Dakotas).
The truck's been subtly modified with a Gibson "cat-back" exhaust system, ASP under-drive pulleys, K&N air filter kit, Street Scene Speed Grill and Xenon Roll Pan. The mechanical modifications have improved performance over stock R/Ts (6.3 seconds to 60 MPH versus 6.5 for stock and 15.12 second quarter-mile versus stock 15.5 seconds). NICE truck!
Shawn has just finished some appearance modifications. Unbelievably, an aftermarket "shaker" hood modeled after the 1970/1971 "E" body shaker hood is available for the Dakota. NaturallShawn installed one. It's an unbelievable conversion and it really looks great. The pictures of the modified truck follow:
Below - a front view of the completed truck
Below - A closeup of the shaker assembly. Note the shaker graphic on the hood. It's the same as the "E" body sticker.
Below - A very nice touch. A knockoff of the 'cuda shaker badge
Shawn tells me that the shaker hood assembly is available from Terry DeLong at Proglass...
Proglass
P.O. Box 445
Avilla, IN 46710
Phone: 1-219-897-2597
E-mail: [email protected]
Web site is www.profinish-proglass.com
Shawn comments...
"I know Terry is also a JBA header, western chassis, and nitrous express (for
when more is better) distributer. The hood complete with everything is about $725 plus shipping, but that includes EVERYTHING!"
---
Return to MOPAR Power Club member rides index
Return to Lee Herman's MOPAR Page
This page last updated 01/27/01 06:42:43 PM