Visitor's Rides - "A" bodies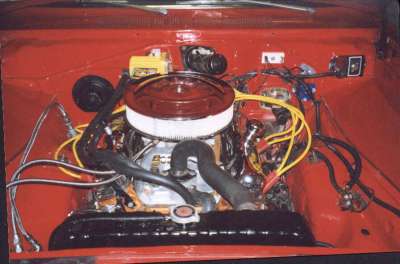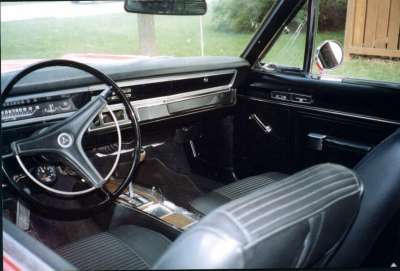 Shown above is Wayne Wedge's 1969 Dodge Dart GT. I have no details about the car at this time, but it must be an early production car (no headrests).
---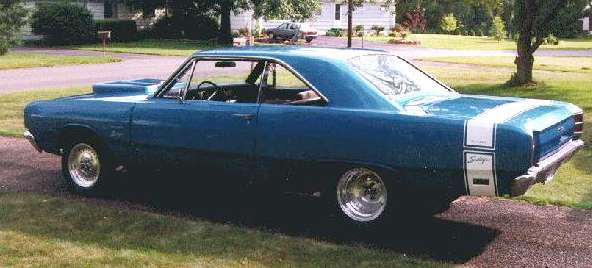 Above is Jim Barker's 1969 Dodge Dart Swinger.
Jim writes:
"My name is Jim Barker and I am a Junior at Binghamton University. Your home Page is cool, and so is your Dart. I attached a picture of my 1969 Dart Swinger, I thought you might want to check it out. The car is a street car and is driven when weather and funds will allow. The car is from Va. and only has 46,000 miles. It was a 6 cyl car but I built a 476 cube stroker for it 10 years ago. The first squeeze of the bottle netted 10.50 @ 126mph, but with some dialing in I see nines in the future. We'll see what this summer brings."
---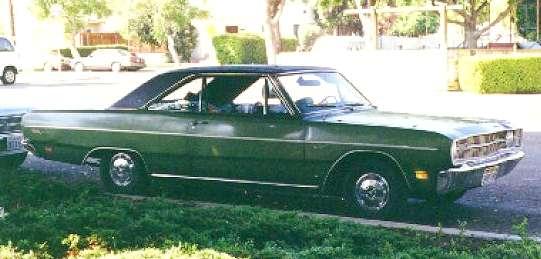 Above is Paul Bersher's 1969 Dodge Dart.
Paul writes:
"I have a 1969 dart the same color as your's mine has a slant-6, plain jane every thing, 13" rims, light duty suspension, drum's all around, here in lies my question. Things on her are beginning to get tired her
engine has 240,000 miles on it, the rear has 165,000 miles on it. The car was well kept by the old lady who sold it to me. I'll try to enclose a picture attachment. Now finally my question is that I have always had V-8 MOPARS a 1965 Plymouth Cuda w/ a 383, a 1966 Dodge Coronet w/ a 440, and 1971 Dodge Challenger w/ a 340. Now the Dart has potential to become a fine example of V-8 greatness. Which way should I go small block or big I mean all the big blocks I've owned have been in big cars, the only one that was a small block was the smaller car. I'm not going
to race the car on Deer Park Avenue and get my license taken away again like back when I was 18. But man the Dart just isn't the same, a damn 225 w/ a big old top speed of 68 mph wooh hold on to your seat's. Well, I just love the car, I've owned it for 6 and a half years, the longest I've owned a car by the way. E-mail me and include some other sites for me. Should Have Got A V-8"
---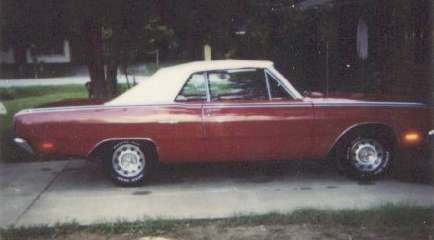 I don't have the name of the owner of this 1969 Dodge Dart GT convertible, but he writes:
"Mine is a 69 also and still sports the original 318 and trans.....this is even the original paint...which is
mighty thin in places :-)". His email address is [email protected].
---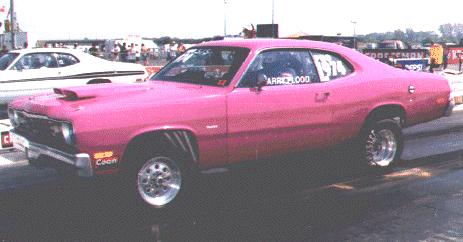 Larry writes about his 1974 Plymouth Duster (shown above):
"1996 was the first year in racing for my wife and I and we have won 60% of the runs we made. The car is running a 1969 440 and has the best time of 10.93 @ 125 We also have a 1972 Plymouth Roadrunner and have done the car show thing for over 16 years I got my start in drag racing working on Donnie Frantz's TA/FC for the last 7 years. I would like to thank my wife and kids with out them behind me I could never do this." Check out his website at... http://members.aol.com/mrmopar340/index.html
---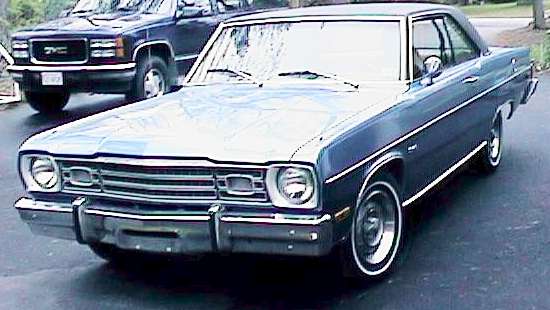 Above is Matt Pereira's 1974 Plymouth Scamp.
Jack Pereira (Matt's father) writes:
"Great site. obviously a lot of work and thought. Super job. My son (16) recently purchased a very sweet 74 Scamp with a 318 A/C etc. I believe it has every option avail at the time. I will try to decode tags etc. Here are a couple of quick pix ( not the greatest, poor weather here a lot lately). I was wondering if you had any literature, ads etc. on
this vehicle. Thanks and keep up the great work. Jack @ Matt's '74 Plymouth Scamp"
---
Return to Visitor's Rides Index
Return to Lee Herman's MOPAR Page
Page last updated 08/13/00 04:21 PM