Visitor's Rides - More "A" bodies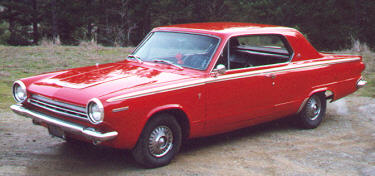 Above is Bryan Macon's 1964 Dodge Dart GT.
Bryan writes: "Hey, I just picked up a 1964 Dodge Dart GT with the original 273 V8 and Hurst 4-speed. It's a really nice one, two month old red paint, newheadliner, etc. 81,000 original miles. It has a black interior, and the exterior was red originally...This car doesn't have a spot of rust or any dents or scratches...I traded a $2000 ford probe and $1200 for this baby. Good deal, huh?"
Yep, a very good deal.
---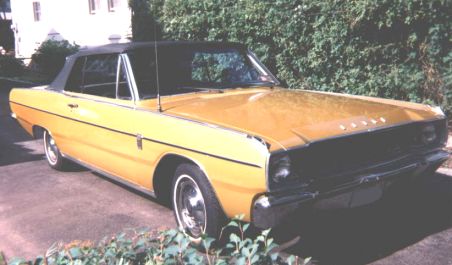 Issy writes of her 1967 Dodge Dart GT Convertible:
"I live in Long Island too. I may have seen you at Bellmore. Anyway, I just scanned these pics of the car. It belongs to me and my boyfriend (Dan). It's a slant 6 /225 (the charger one), 3 spd on the column. original 75k. We bought it from the original owner, she gave us the price sticker from the window."
Note: I've met Issy and Dan at the Friday night cruise at the Bellmore, Long Island train station. Nice people and a nice car. It's the first time I'd seen a Dart with a three speed manual transmission with shifter on the steering column. Pretty neat!
---

Bill Cape writes:
My name is Bill and I live in Dallas Texas. I bought this 1967 Dart in
October of 1999, it came from an original family and only has 52,000 miles
on it. It was in the Octobers Auto trader for $1,500, I stole it for
$1,000. It has a slant 6, 225, runs like a top, factory 13 inch rims, 3 on
the tree, even has air conditioning. I am beginning the restoration now,
but should not take very much work. The car is very clean! Will send more
pictures as I progress. I love to check out Dodge Dart and Mopar sites.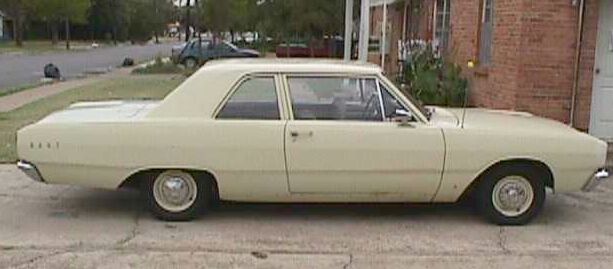 ---

Scott Rubinoff writes...
Hi Lee,
I met you a few weeks ago at Bellmore train station. I am friends with Michael (the 69 blue Dart "Rare 340"). I finally got my car painted and would like you to post it on you cool web sight...Well here is the story.

This is a pic of my 67 Barracuda fastback that I have owned for 16 years. It has a 400hp 360ci and a 727 tranny with a 3800 stall converter. The rear is a 8 3/4" with 4.57 gears on a spool. The dash is all stock with the exception of a bunch of Autometer gauges. It has a 8 point roll bar tied into the sub-frame connectors and superstock springs with drag shocks. This used to be my daily driver, but I wanted to go drag racing so after 16 years here is the result.

Thanks,
Scotty
---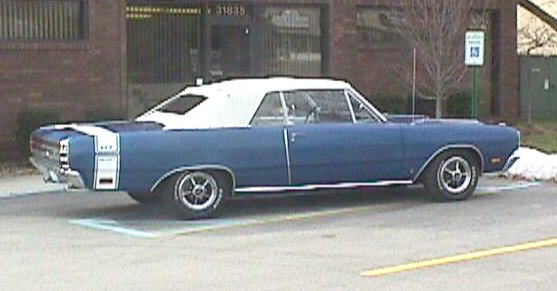 Above is Jim Maiani's 1969 Dodge Dart GTS convertible.
Jim writes: "My 69 GTS convertible is a 340 auto, 3.23 rear B5 blue, white/white/white. I am the 3rd owner, and have looked for a GTS convertible with white top/interior/stripe for about 10 years. Finally found it in Ohio. Needs a full restoration (its a nice 30-footer), and will get it hopefully starting this fall."
---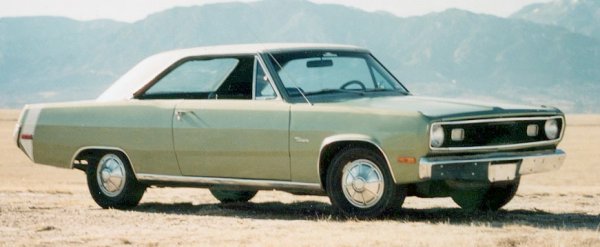 Shown above is Aarron Mosher's 1972 Plymouth Scamp.
Aarron writes: "My name is Aarron and my ride is a 72 Scamp. I love that car. It has been all across the USA. I've recently rebuilt the 318. I've had it bored .30 over, added an edelbrock intake and 600cfm 4 barrel. It has a Crane cam and I'm thinking about painting it Plum Crazy with the white vinyl and stripe staying. I'm stationed in Colorado in the Air Force right now and I'm heading to Germany in October. Maybe next time I send pictures it'll be in front of the Eiffel Tower. Thanks for a great web page and a chance to show my pride in my MOPAR. Keep up the great work.

MOPAR or no car...Aarron"
---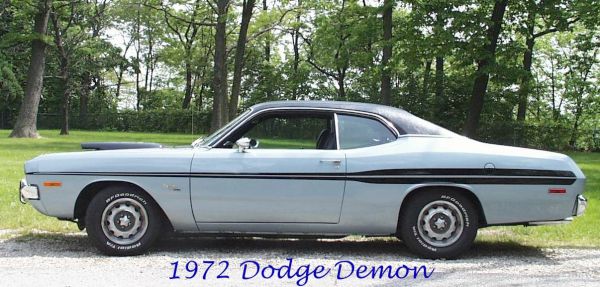 John Thompson writes:
"My name is John Thompson and my ride is a 1972 Dodge Demon. It has the original 340 in it with the 727 automatic tranny. The car is in fantastic shape. It's got 73,000 miles on it and has been fairly well cared for. I picked it up this spring (1999). My goal is to make it show worthy and then start taking it to some shows and see what happens. It only needs minor parts to get it there but those parts ain't cheap!. I also want to do some research on the cars history."

"The woman, yes woman, I bought it from purchased it in 1992 from a local dealer that specializes in 60's & 70's muscle cars and sells cars on consignment. She did a good job of maintaining the car and she had some restoration done, but had started losing interest in it as she is quickly approaching retirement!!!"

"You can include my E-Mail address. I would be more than willing to correspond with other Mopar owners that can help me reach my goals. My e-mail address is [email protected]"
---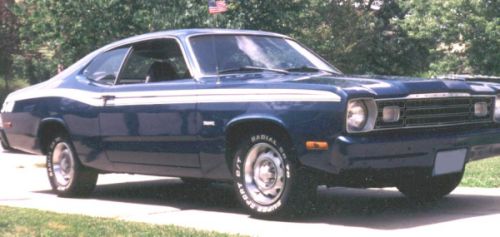 Bob K writes of his '73 Plymouth Dusters:
"Here are some scans of my 73 Dusters I told you of in my eBay email. The blue one (above) is my old one. It had a 340, 727, 3:23, p/s, p/db, a/c, slap stick, console, factory sun roof, fold down rear seat, and all you see in the pic. I drove it for 4 years as my daily and sold it when it because it was ready for a total resto and I wasn't."

"After 6 months of Duster withdraw I bought the second. I bought it from the original owner who was going to repaint it due to bad fading of its B5 paint, but bought a Vette in the mean time and went that direction instead. The Duster sat in storage for 15 yrs and was getting in the way of it's owner so he put it up for sale. I took one look at it and all the original paperwork including the window sticker and bought it. I think the fact that it was not only a rust and dent free car, but the nice options and original white interior and the working 8 track still mounted on a under dash lock mount, made me go for it. Two years of N.O.S. and good used parts buying of the original stock parts and she is on her way to completion. Hopefully by the fall it will be road ready."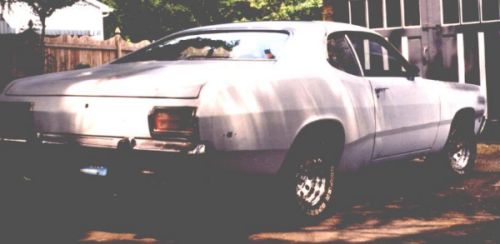 ---
Return to Visitor's Rides Index
Return to Lee Herman's MOPAR Page
Page last updated 02/28/01 01:26 AM