Visitor's Rides - More "B" bodies
---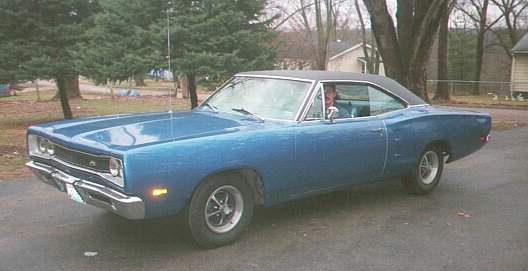 Ken writes of his 1969 Dodge Coronet "Notabee" (above)..."This is my daily driver (really). It's a 69 Coronet that i am turning into a superbee clone, i know some people have a problem with this. I have plates coming that say "notabee" When i bought the car the old owner had new quarters but not hung, this was my 1st try a body work, i think it turned out well. The paint is 98 Dodge color intense blue.
Close to b5 but much more eye catching. I have a 383 on the stand now i will be putting in this summer."
---
James Saxton writes ...
Dear Lee,

I would love to have my 1969 Dodge Coronet in your reader's ride section.
Here is the bio:

The car was produced Dec 3,1968 in St. Louis, MO. It was originally
purchased Dec 12,1968 in Atlanta, TX for $2,674.55. I, as the second owner,
purchased the car for $900 on Nov 14,1980. It is one of only 437 produced
with the 225c.i. slant6. It still has it's original factory Y3 paint. It
currently has a '69 383 Magnum w/282 Crane Cam , Edelbrock dual intake,
headers and 850cfm ThermoQuad and. It has a 727 auto with stall converter
and 3.55:1 SureGrip. I recently restored the interior. Here are the pics:

Looking forward to seeing my car on your GREAT webpage!

James Saxton
Carthage, TX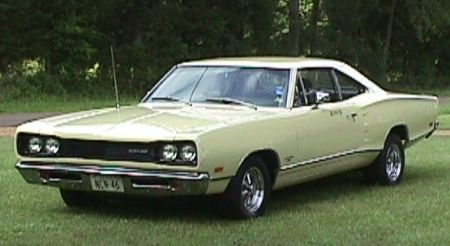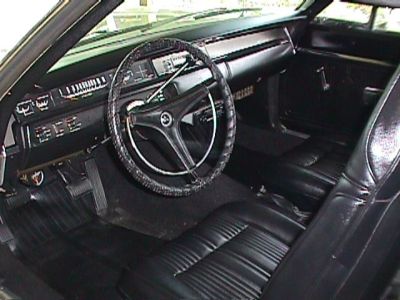 ---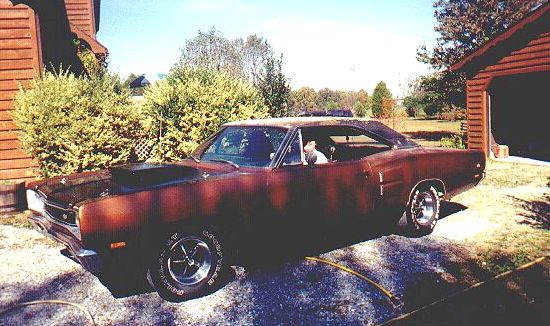 Jeff Taylor writes...
Hey, writing to let you know that i really enjoy your web site, My
name is Jeff Taylor and i'm from Metropolis Illinois, above is a picture of
my 69 superbee, if you notice it is in work, this is before it was tore
down, my cousin Andy and i have a big interest in mopars. it took him
three long years to restore his 70 superbee (below), and here is his results
,(lucky guy). he has the 440 cu.727 tranny,with a dana rear, the 69 is all
stock with , four speed, and a 3.93 rear, the garage in the background is
known as the bee hive where we restore these at.. thanks again for the cool
web-page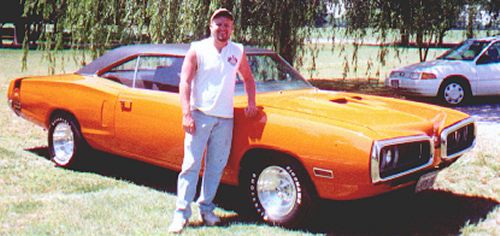 ---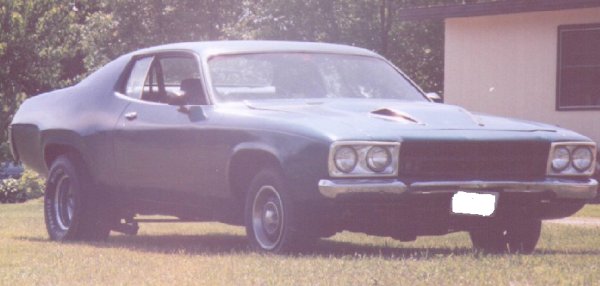 Shown above is a 1973 Plymouth Satellite.
The owner (who didn't leave his name) writes..."this is a picture of my 1973 Satellite RR. The engine is a 1971 340, ( from a deceased RR ) it's bored .30 over, Edelbrock intake, Hooker headers, Holley 650.
The Tranny is a Torqueflite 727, I don't know the year. The rear end is a posi 4:11."
"I've had it for a little over a year, and at this time its being rebuilt. I recently found metal shavings in my oil (ouch) so the whole things coming apart this summer. I plan on using my 1974 parts car to make it as original looking as possible, going back to the original paint scheme and interior. It's going
to be quite a struggle but i think i should have it near completion in five years. I've done a bit of street racing with it and its quite tricky with that posi rear. my family all really enjoy taking rides in it. I want to go back to as close to stock looking as possible. more of the sleeper route. does anyone know how to look up everything like the original interior and paint schemes? or would i have to call the factory in michigan, if its still open???? this is getting to be quite an expensive lifestyle."
---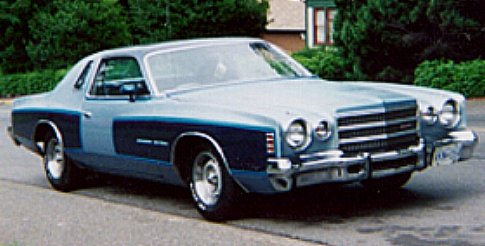 Another unnamed visitor writes about his car...
"Hello Lee, I have a car that you may be interested in displaying on one of your
pages! It is a 1977 Charger Daytona! Not many people know that these
cars exist. It originally had a 400 in it with a Thermoquad 4 barrel.
I unfortunately lunched that motor while refusing to lose to a Mutwang
5.0. I now am running a 440 with flat top pistons, 906 heads, 284/264
108deg purple shaft, M1 intake, Thermal quad, and a bunch of other
little mods! It is good for 10.96@145 Mph on slicks and 11.34@139 Mph on
street tires! I am now working on a new motor to try to put it into the
9 second range. I have all the original parts so someday I can restore
it to stock!"
---
Joe Perrin writes about his 1970 Plymouth GTX HEMI:
"Here's the pics of my car for consideration for your site. I purchased
the car fully restored by a professional restorer here in the bay area. The
car was completely disassembled and restored from the chassis on up. The car
is mostly original, (the panel between the rear window and the trunk had to
be replaced because of rust which was common in these models where water
settled at the bottom corners of the window). This piece also had to be
painted to match the car and is a close match."

"The rest of the car sports the original paint and stripes. The trunk is painted to factory specs and still smells new when opened. The engine was painted to factory hemi orange specs and has never been bored. Higher tempered hardware was used in the engine rebuild to accommodate the unleaded fuels of today. The engine is
completely stock rebuilt to factory specs, sporting dual carters (original).
According to the paper work that came with the car the car dyno'd at 550hp.
Myself I have my doubts but it is not slow by any means. I have yet to time
it on the track but hope to this summer sometime."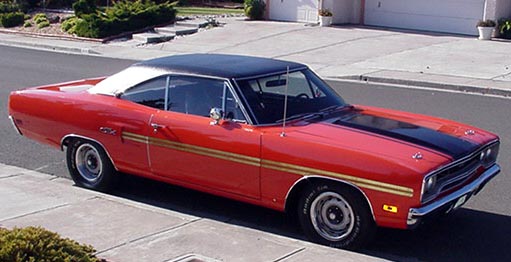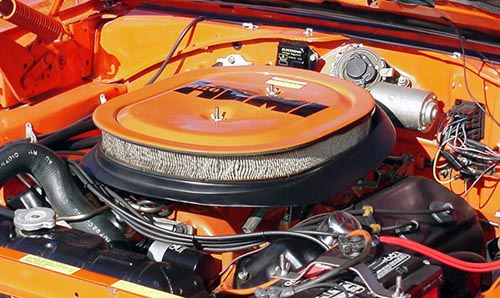 "All Mopar parts were used under the hood, (hoses, clamps, pumps etc...), except the battery. The interior is original upholstery, carpet, headliner, etc...all except the
steering wheel which is custom, and the radio which I plan to restore to
originality this summer as well. The rare aspect of this car is it is a hemi
powered auto on the column. I've been told there was not many made but don't
have the facts to that yet. The downside to the car (not to me but what I've
been told) is the gears...3:23. The car came with the original window
sticker and owners manual. This makes for some very eye-popping reading, get
this...the car sold for $3800 new with the hemi upgrade an additional $800.
The stripe package was $16.00, and the chrome fender liners where a mere
$4.00, a buck a wheel well can you believe that?"

Sincerely,
Joe Perrin
---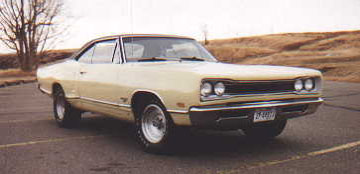 Some words from Phil (AKA "Nitro") about his 1969 Dodge Coronet 440...
"First, lemme say your site is well done. I have to appreciate the effort you
must have put into a site that large. Attached is a pic of my 69 Coronet 440. I bought it about 5 1/2 years ago in Montana with a 70 New Yorker 440 installed, a TCI Sreet Fighter 727, Electronic ignition and little else. I then flogged it daily (in all
weather) till spring of 99. I got married in March '99 and my new wife suggested we do something with the 'Net."
"We decided to build the motor first. She did half the wrenching! That
must be why I'm married. Anyway, we yanked the mill and, lo and behold, a
balanced and built shortblock! So, I ordered a 292/509 Purple shaft,
Edelbrock Performer RPM intake & 750 carb and a fresh set of bearings. At a
swap meet I picked up a Sure-Grip, 2500 stall converter and a tach for $150.
I scored a set of headers (old Hookers with a four-bolt flange) from a friend
for free. We assembled the motor and dropped 'er in. The converter would't
bolt up to my flexplate. Shit. So, I went to my buddy with the Mopar tree
out back and scored a free flexplate. Re-dropped the mill, bolted her in and
fired. LOUD!! Damn it was loud. The dog ran away and the wife went for
ibuprofin."
"Next was farm-bent 3-inch exhaust and dynomax turbos. Still
loud, but livable. After break-in, the car ran to 3500 and shut down.
Wrong! A carb change proved the Holley was toast, so we ordered the
Edelbrock. Little change, but now it would at least rev high enough to hear
valve float. A small machine shop bill fixed that. After the second drop
the headers leaked, since they were older than I was. New set of Heddmans
and a third motor install and it still ran like dog doo. After many nights
of consideration and deciding not to sell, I pulled the top end apart and
checked the cam. 15 degrees off! Oops."
"That fixed, the car would burn rubber for a block and shut down at 5 grand. Started playing with the timing. When you recurve a distributor with the cheap springs, only use one of them. I used both, and was pulling full advance at idle. After
re-timing, it G-teched at 14.2@103 mph at 3500 feet and 50 feet of tire
smoke. Now we are in the process of tuning the carb and saving for SS
springs, new tires, and maybe a nitrous kit. (Don't tell the wife about the
last one...I haven't asked her yet;-)"

Thanx for listening,
Nitro, aka Phil
---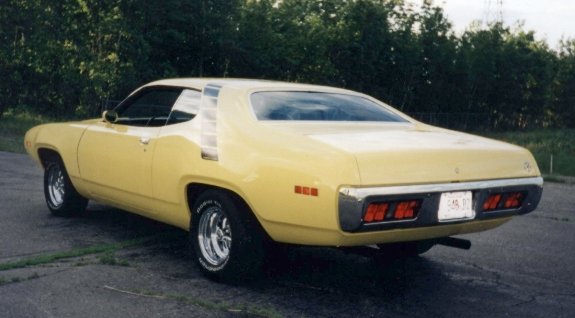 Jeremy writes about his awesome 1971 Plymouth Road Runner (above)...
"I just checked out your great website. It seems that the only thing it's lacking is 71 Roadrunners, so I included a picture of mine. I just finished it this past summer. It has the numbers matching 383 and slapstick 727 trans. It is painted lemon twist with the black strobe stripe. Until I get some rallyes the 3.55 rear is spinning Cragars."
---
Return to Visitor's Rides Index
Return to Lee Herman's MOPAR Page
Page last updated 02/28/01 01:26 AM