Visitor's Rides - International MOPARs
---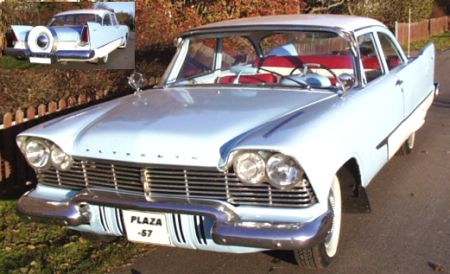 Peo writes:
"Hi ! My Plymouth Plaza Busines Coupe -57 for Visitors Ride". "I have owned it since 1981 (quite a while).
Engine is a small block 318 -67 with 904 -69 automatic transmission. More info on my site homesite http://home1.2.sbbs.se/peo.magnusson.

"It would be nice to see links to the following sites!"

Peo's Plymouth -57/-58 Site - http://home1.2.sbbs.se/peo.magnusson/
The Site is about Plymouth made 1957 and 1958. Some facts, history,
pictures, links and 4sale.

W.P.C. Club, Sweden Region - http://come.to/wpc/
I´m a member of W.P.C. Club, Sweden Region. The W.P.C. Club (Walter P.
Chrysler) is a non-profit organization dedicated to the preservation,
restoration, and enjoyment of Chrysler Products, namely Plymouth, Dodge,
DeSoto, Chrysler, Imperial, Jeep, Eagle and related vehicles.

Kind Regards
Peo
---

Above is Layne van Smaalen's 1969 Valiant VF. It's the Australian version of the Dodge Dart. I have no additional details at this time.
---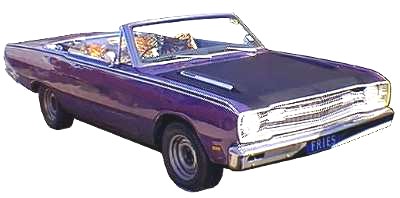 Duncan Fry writes:
"Hi there I enjoyed your page - wish I'd kept as many photos of our family cars myself"
"I have a 69 Dart convertible as well - it's Plum Crazy, has a white top and the 340 4 barrel GTS hood, and is Right Hand Drive. Pretty well all cars here in Australia have to be RHD before you can register them. Unlike yours it was in a fairly butchered state when I bought it for US$1,000 back in '94. It appears to have been a similar green to yours originally, but a bit brighter. Since none of the paint matched on any two panels, I repainted it Plum Crazy. I know it's not a paint option for 69 but it's a great colour!"

"It was originally a slant 6, but when I converted it to RHD I bought a local Valiant 69 sedan as a donor car for the RHD K frame and fittings. This car already had a 273 in it. It was a bit tired, so I've just slotted in a brand new 360, built from NOS heads, crank and block sourced from Chrysler dealers spare parts around Melbourne. Has a Holley 600 with vacuum secondaries and goes like a rocket now! I drive it to work every day and it's great fun - something not many new cars are. A small pic is attached. I'll send over some others if you're interested."

"I also have a very worn out Superbird just arrived. This I'll probably be able to leave LHD after Jan 2000 when the laws change. It'll take at least till then to put all the pieces back together"

All the best

Duncan

PS My own website is http://world.net/~dunkfry . Apart from stories of
life on the road with bands, there are quite a few car ones too.
---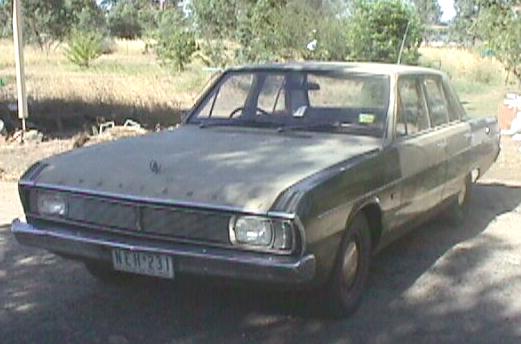 Cameron Williams (who didn't mention his location, but I think he's from Australia) writes about his 1970 VG Valiant 4 door:
"It has a stock 245 Hemi and 3 speed manual. It goes pretty hard in stock form but im always puttin me foot through the floor :-(
Next up is new paint, floorpan, gearbox and engine modifications."
Cameron can be reached at [email protected]
---

Ingo writes...
Some details from my car:

It`s a 71 Plymouth Satellite Sebring, it`s the original 318 engine changed to 6 - barrel, transmission A904, interieur is new and changed to black, lilac and yellow.Tires: 215 and 255/60 on original chrysler alloy wheels, car colour: total black incl. bumpers etc.

Thanks
Ingo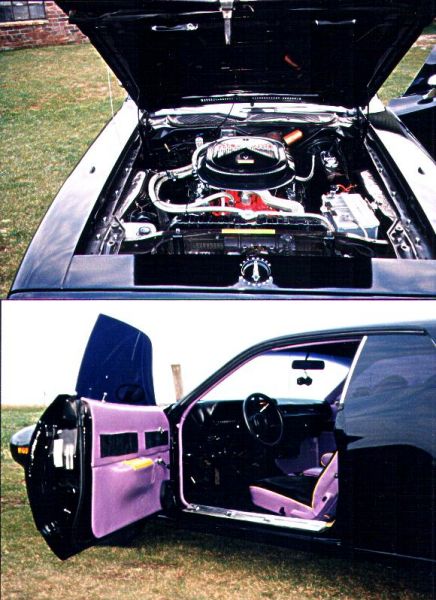 ---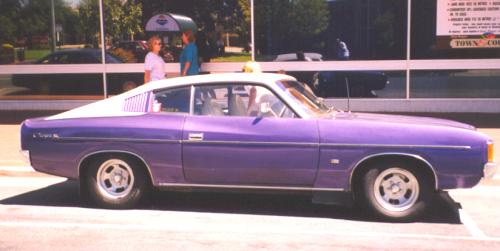 From Melbourne, Australia, Robert writes about his former 1975 Dodge Charger...
"...I'm Robert from Mitcham, Melbourne Australia. The car attached
was my 1975 Charger, Original Plum Crazy, 265 Hemi (six), auto. Pretty
much standard except for exhaust and headers. Unfortunately had to sell
because of buying house etc etc."
---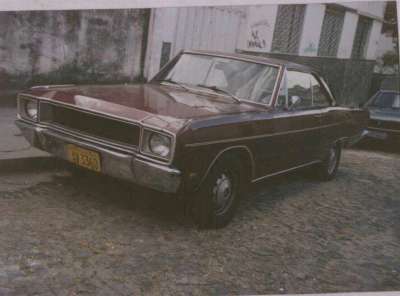 Above left is Fernando's all original 1976 Dodge Dart coupe De Luxo 1976 - red 318-V8 198 h.p.
Above right is his friend's 1977 Dodge Charger R/T 1977 orange 215 h.p.
If the cars don't look familiar, it's because Fernando, his friend, and their cars are from Brazil. The basic style of the American second generation Darts was in use for a number of years after they were discontinued in this country. Note the hoods and bumpers on the '76 Dart. They're very similar (perhaps identical) to those on the American 1967 to 1969 Darts. The hood style on the '77 Charger is very similar to the "GTS hood" used on the 1968 and 1969 American made Dart GTS's.
---
Return to Lee Herman's MOPAR Page
Page last updated 02/28/01 01:26 AM