The MOPAR Power Club "A" body collection (Pre '69)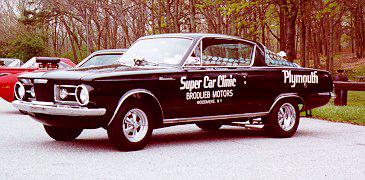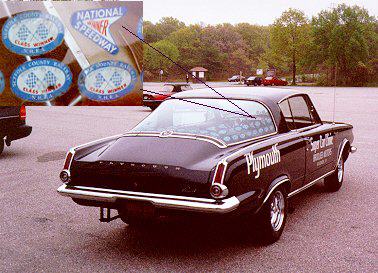 The monster pictured above is a 1964 Plymouth Barracuda. Bob C. is the second owner of this car, which has a long race history on Long Island. With its modified 273 C.I.D. V8 four barrel carburetion, fenderwell headers and 4.89:1 rear gears, this car has run a best dragstrip time of 11.500 seconds at 121 M.P.H. It's currently running a 3 X 2 barrel carburetion set-up. Note the inset in the bottom picture. It shows detail of the numerous Suffolk County Raceway "class win" stickers covering both sides of the large rear window.
The Barracuda is currently featured in "Big Daddy" Don Garlits' Museum of Drag Racing
More photos and details of the Barracuda including rare factory documentation!
---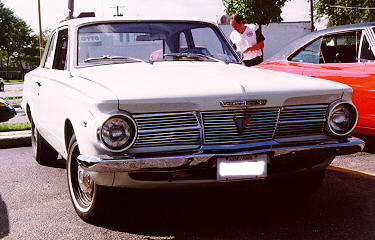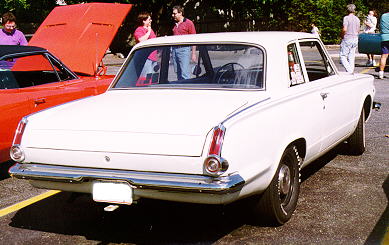 Featured here is Howie E's 1965 Plymouth Valiant two door sedan. Grandma's grocery getter has run a best 1/4 mile track time of 12.1 seconds at 115 MPH with a modified 340 C.I.D. V8 and six barrel carburetion. It's currently equipped with a Chrysler 360 cubic inch, 380 horsepower "crate engine" with fenderwell headers (shown below), A999 automatic transmission and 8 3/4" rear end with 3.55:1 gear ratio. As equipped, it has recently run a best time of 13.2 seconds at 108 MPH (Howie's first time out with the new engine installed). Performance was limited by traction and the 3.55:1 gears currently installed in the car. He expects to be back in the low "12's" with a shorter gear ratio and other traction tricks.
Howie's car was featured in the March 1990 issue of High Performance MOPAR. Read the article to learn more about the car as it was in 1990.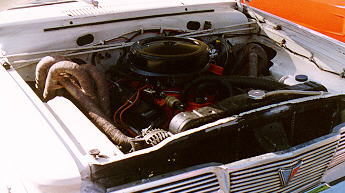 ---
Featured above is Colin S's 1968 Plymouth Barracuda Formula S. It's equipped with a 340 cubic inch V8, 4 speed manual transmission, 3.91 Suregrip rear end, power steering,. factory clock and rear window defogger. The car was originally purchased from Babylon Chrysler-Plymouth (Babylon, NY) in December 1967. Colin purchased the car from its second owner in April 1976 and restored it in 1979. It looks as good as new. Check out Colin's '70 Cuda.
---
Shown above - TWINS. Mark H's awesome 1968 Plymouth Barracuda Formula S convertible (left) with Colin S's equally awesome 1968 Plymouth Barracuda Formula S fastback (right).
Below, photos of Mark's Formula S. This car is currently equipped with a 360 cubic inch/300 horsepower "crate motor" with 727A Torqueflite automatic transmission,
8 3/4" rear with 3.23:1 axle ratio, power steering and power disc brakes. The car is GG1 green with black bucket seat interior and center console.
---
Return to MOPAR Power Club member rides index