The MOPAR Power Club "E" body collection, page 3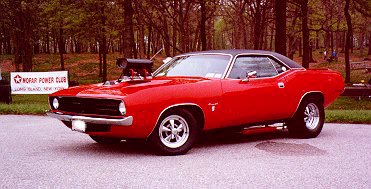 The car pictured above is a slightly modified 1970 Plymouth Barracuda Gran Coupe owned by Frank Fauci, the founder of the MOPAR Power Club of Long Island (the biggest all MOPAR club on Long Island!). It has a 1972 400 Magnum engine, bored to 415 C.I.D., a Dyers 671 Supercharger, 2 four barrel carburetors, twin 125 horsepower NOS plates, 727B Torqueflite automatic transmission and 8 3/4" 3.55:1 Suregrip rear. It's never been run at the dragstrip, but you've got to see and hear it to believe it. It's got to be incredibly fast!
---
Below is Gary D's awesome 1970 Plymouth 'Cuda. It's equipped to go, with a 440 cubic inch V8 with factory six barrel carburetion, 4 speed transmission, and a Dana 60 rear with 3.54:1 gear ratio. Equipped as shown, its best quarter mile time has been 13.21 seconds at 106 miles per hour.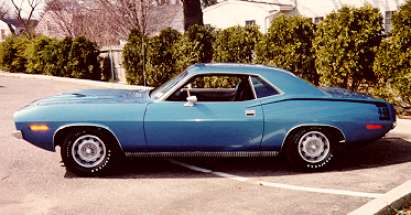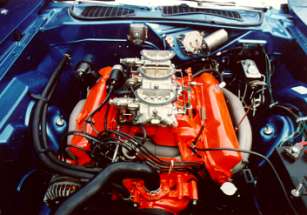 Check out Gary's 67 Chevrolet Camaro RS!
---
Above is Colin S's 1970 Plymouth 'cuda 340. It's equipped with a 340 cubic inch V8, automatic transmission, and 8 3/4" rear axle with 3.23:1 gear ratio. Inside, it's equipped with Gran Coupe seats. This car was built on 7/30/70. According to MOPAR expert Galen Govier, that was the last production date for 1970 model 'cudas. Check out Colin's '67 Barracuda.
---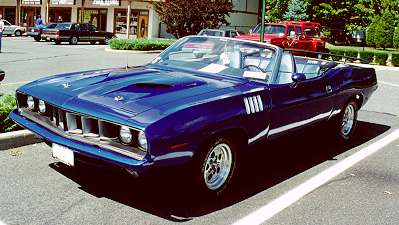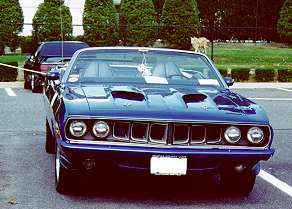 Featured above is Dave S's. awesome modified 1971 Plymouth Barracuda convertible -now equipped with a 340 4spd., pistol grip, 8 3/4 rear with 3.23:1 gears and "Sure-Grip". Dave built this car with the previous owner in 1989 and "will own this car until he dies". Anyone interested in contacting Dave can do so at [email protected].
---
Above is Joe G's 1971 Plymouth 'cuda. It's a 440 "six pak" car with the "shaker" hood. It's also equipped with an automatic transmission, 8 3/4" rear end with 3.55:1 gears (part of the "Trak Pak" option), power disk brakes, and center console. It's one of 237 built with the 440 6bbl/automatic combination, and it's numbers matching.
---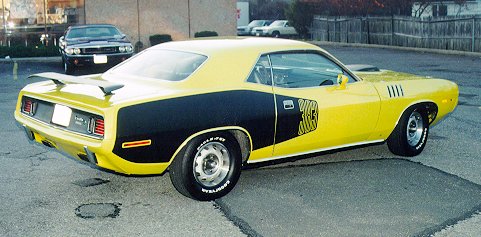 Shown above and below, Pete's 1971 Plymouth 'Cuda. The car is equipped with a 383 cubic inch "Super Commando" V8, 4 Speed manual transmission with Pistol Grip Shifter, and 8 3/4" rear with 3:23 Sure Grip. The car is Curious Yellow with a black interior, black Billboard stripes, "shaker" hood, elastomeric front and rear bumpers, Rallye rims, hood pins, road lamps and rear Go-Wing.
Pete writes "I have owned the car for 8 years, since March of 1991. It is originally from
California. It went to Vermont, Connecticut, and finally to NY. The body, interior and drive train were all redone just before I bought the car, I only had to do some detailing and minor fixing up. I showed the car the first four or five years, now I basically just drive and enjoy it!! It turns heads everywhere because of the Curious Yellow, Shaker Hood, Billboards, and Gilled fenders."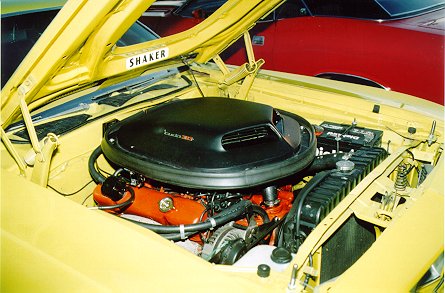 Check out some Peter's other fine MOPARs...
---
Return to MOPAR Power Club member rides index
Return to Lee Herman's MOPAR Page
Page last updated 01/27/01 11:43 PM -0000