Friend's Rides, Page 2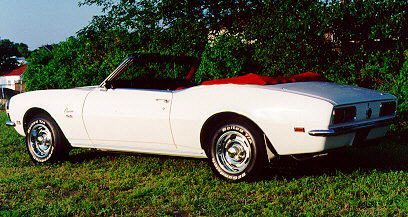 Featured above is Guy and Katherine's 1968 Chevrolet Camaro SS convertible. It's equipped with a 327 C.I.D. V8 with four barrel carburetion, automatic transmission (with console shift) and power steering. Other options include bucket seats, rally wheels, power top, and stainless "reveal molding". The car was purchased new by Guy in September of 1967 and now has 134,000 miles on the original engine. With the exception of the fuel pump and water pump, the engine has had no repairs other than normal maintenance.
---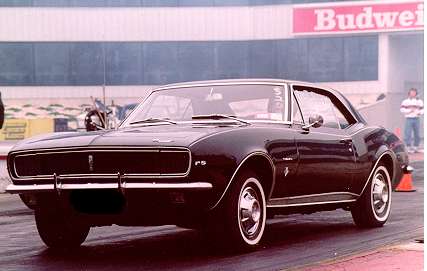 Shown above is Gary D's 1967 Chevrolet Camaro RS in action. It's equipped a 327 cubic inch V8, two speed "Powerglide" automatic transmission, power windows, rallye gauges, tilt steering wheel, deluxe interior, and AM/FM multiplex radio. Its best quarter mile time is 15.6 seconds at 87 miles per hour. In Gary's own words, "the car is original in and out right down to the hubcaps". Check out Gary's '66 Chrysler Newport and '70 Plymouth 'cuda!

Gary's new addiction is 1987 Ford Thunderbird Turbo Coupes. His goal is to own one of each available color. He's halfway there. Shown below is half of his collection.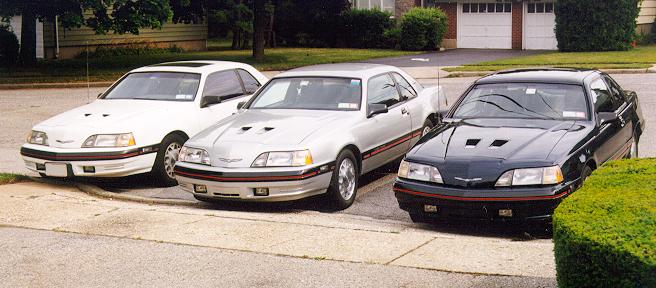 ---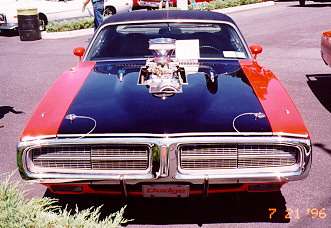 Featured here is Mike A's wild ride, a 1972 Dodge Charger. It's presently equipped with a 440 C.I.D. V8 with aluminum cylinder heads, Weiand supercharger, twin 750 CFM Holley double pumper carburetors, pistol grip shifted four speed manual transmission, 8 3/4" rear axle with 4.10:1 gear ratio, power steering and power brakes.
---
Return to Lee Herman's MOPAR Page.
Page last updated 01/27/01 11:43 PM -0000