Visitor's Rides - Miscellaneous
---
Matt Dohm's 1974 Dodge Power Wagon...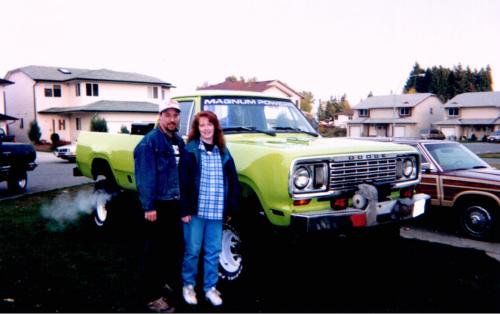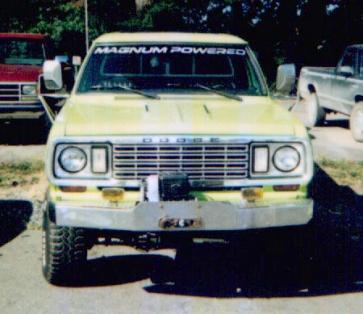 Matt writes:
Hi there great page!!!!! But you are missing one important mopar vehicle,
the trucks!
So Im sending a pic of my 74 power wagon!!

Ok here goes my list, she is a 74 power wgn, 73 440 4 spd.
Engine mods!
the new keith black gear drive, mopar m1 high rise single plane intake,
holley 750 double pump carb, mopar electronic ign, mopar purple shaft,
headers, 68 6pak heads, mopar valve covers and many more.
Suspension mods.
Rancho quad shocks in the rear, singles in the front, Rancho add a leafs in
the rear, 8 inch custom body lift, 6 inch suspension lift, dana 60 in the
rear, dana 44 currently in the front but a dana 60 from a 93 ram is on the
way! warn manual hubs in the front, lock right in the back.
Interior mods.
Custom dash, mopar gauges, auto meter monster tach, grant gt steering wheel,
b&m shifter knob, am/fm cd cass unit from a 98 ram, kenwood 7x10 speakers,
and 4 inch gel cooled speakers in the doors.

We sprayed the nytro yellow paint three years ago and shes almost done. The
list goes on and on. I raced her for the first time last year and took
second place in both my classes. Sand drags street and trail C, and mud bog
35 inch tires.
When i get some better pics I'll send em along!
The first one I'm sending is of my wife Tracey and I as we were getting
ready to head out for a 4x4 weekend with some friends, and the other one is
a pic of her parked at work.

Matt Dohm
Courtenay B.C.
Vancouver Island, Canada
---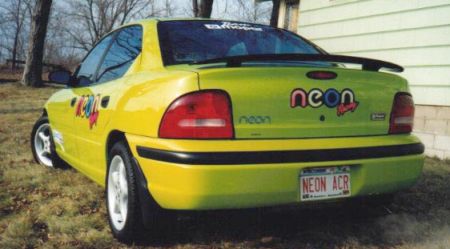 Jeff Ball writes of his vehicles:

"#1 (above) is my 1995 Plymouth Neon ACR sedan painted in Nitro yellow-green. SOHC
2.0 liter, 5-speed. Performance goodies include K&N cone filter, Kirk
Header, Borla muffler, wheels and tires and Eibach lowering springs. I am
eagerly waiting for Mopar Perf to release the new computers for them; Crane
Cams is also working on Cam Kits for the Neons as well. Current performance
is 15.85 @ 88 mph. There were only 16 Plymouth Neon ACR sedans painted Nitro
yellow-green."

"#2 (below) is my 1978 Dodge Aspen Super Coupe. E58 3604V, 727 auto, black interior
w/ console, transplanted 8 3/4 B-body w/3.55 sure-grip, intake and carb
upgrade (the lean-burn bit the dust years ago), and most importantly -
T-Tops. This is one of 41 w/T-Tops. For those who don't know, these were
made only in '78. There were 531 Dodge Super coupes. Plymouth also had a
Super Coupe. These are very similar to the Kit Cars. If anyone has a
"correct" gas cap for a Super Coupe they would like to part with, please
contact me - I need one!"


Jeff can be contacted at [email protected]
---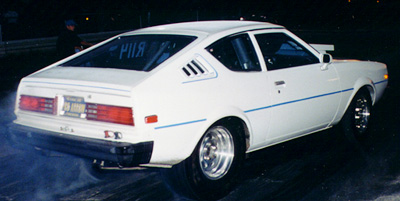 Dave Mackey writes:
Greetings!!

I just stumbled upon your web site and wanted to say
thanks. I drove a 69 Dart GT w/ black Vinyl Roof in
High School every day. Same color, with a swapped 70'
340 out of my brothers wrecked Duster! Wow the sight
of your convertible compelled me to write!!

I have grown up MoPar, my father wouldn't have it any
other way! Currently my brother, nephew and I all own
and race nothing but Mopars.

As for my dad, although he doesn't have anything left
vintage, he remains faithful!! He cruises my Mom
around in a LeBaron and has 2 Caravans, (Give him a
break he is in his 70's and has Turbos in 2 of the
cars!!

He is also a mainstay in our racing operation.
keeping the cars at his property, charging batteries,
checking air pressure etc.

Here is the good part, my Brother Bob Mackey has an
original 1969 Dart GTS 340 car that has seen nothing
but the drag strip for the past 15 years and is about
to be put back onto the street!! It has run a best of
12.05 @108.00 mph. I'll send you the components with a
pic later.

My Nephew, Michael Mackey and Bob (his dad, my
brother) are currently building a Dodge Daytona with a
360 small block, that should be ready by spring.

Now for me, you could put this in a category of
unusual.
I have a 1980 Plymouth Arrow streetable but only raced
now. All steel no plastic parts here except the scoop!

Here are the all MoPar details and a Pic.
* 1970 340cid bored 30 over
* 10.1/2.1
* "Purple Camshaft"
* MP Electronic Ign.
* M1 Single Plane
* Holley HP 750
* 904 Torqueflight
* Shortened 8 3/4
* 11.5 inch Hoosier drag Slicks
* Alston 10 point Roll cage

Best E.T Cecil County Dragway, 11.08 @ 123.00

Dave Mackey ,Harrisburg PA
(Check out Dave's brother's 1969 Dodge Dart GTS)
---

Brent Hutfless writes about his 1956 Plymouth Savoy...
"My name is Brent Hutfless, and enclosed is a picture of my 1956 Plymouth
Savoy. It is currently in San Diego, but I believe the car was originally
from Arizona. I have a great deal of time and effort into this car, but I
have to sell it due to an upcoming move. I hope that you post my car anyway,
so that I will be able to share at least a few of my memories of this unique
automobile."

"The Savoy was a midlevel Plymouth, below the Belvedere, but above the
Plaza models. This particular car is of the "options delete" variety (no
radio, no heat, no power anything...). It has the original 230 c.i. flathead
straight 6, column shift standard transmission, and 3.73 rear. The interior
was reupholstered in two-tone green; with cloth and vinyl, carpeting,
headliner and painted/detailed to match. The exterior was just repainted in a
light metallic "jade" green. The hubcaps, chrome, and stainless trim are all
original. While it's not a screamer like some of the other rides listed, it's
fun to drive and gets looks wherever it goes."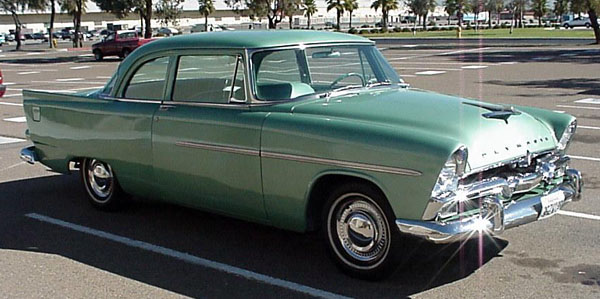 ---
Return to Lee Herman's MOPAR Page
Page last updated 02/28/01 01:26 AM