Visitor's Rides - Even More "A" bodies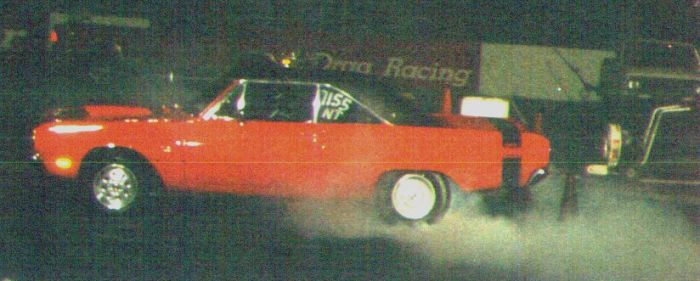 Jeff writes:
Here is my pride and joy 1969 Dart custom but cloned to kinda look like a GTS I have owned the car for 13 years now originally a 273 auto ac pb ps car now 440, manual valve body 727, no a/c no p/s and no more p/b 8 3/4 4.56 gears turbo action j-converter. The car is a blast to drive and that's what I do right or wrong. Some people have said I'm nuts to drive it as much as I do and I say to these people I built the car to be enjoyed and I try to as often as possible. Hopefully see you guys at the
Bellmore show next year.
Thanks, Jeff
---
Darren Konkin writes:
Dear Mr. Herman,

Hi, my name is Darrin, I'm a recent high school Graduate up here in BC,
Canada and I am the proud owner of two fairly classic MoPars. The first
car is a 1975 Plymouth Valiant Brougham 2 Door Hardtop. This car has
been in the family since brand new....My mom drove it off the showroom
floor and we even have old Super 8 Film (courtesy of my Uncle) of my Mom
and Dad arriving home in their first brand new car. Contrary to popular
belief, "Valerie" is not a slant 6 slug, she is equipped with a 318 with
a Carter 2 bbl and a 727 Automatic. Sometime in the late 70's, the
factory exhaust fell off, so my Dad replaced it front to back with a new
pair of exhaust pipes and put on what were known as "Blue Poly"
Mufflers....these mufflers produce the sweetest sound I've ever heard.
"Valerie" is equipped with every option except A/C and Sunroof (which
I'm told was NOT available with the vinyl top). Well, in 1990, my Mom
decided she wanted a new car, so she bought a 1 year old Chrysler
Dynasty and she didn't know quite what to do with "Val". My father (who
was not very fond of MoPar's in general) was about to send her away to
the car crusher. (This is where I step in) Being only 11 at the time, I
got the usual "Why does an 11 year old kid want a 20-some year old
car?".... Well, we made a deal....If I could come up with $400 dollars
by the end of Summer, I could keep "Valerie". I think that summer I must
have mowed every lawn in town, walked every dog and cleaned everyones
gutters....but I managed to come up with the $400 dollars. I'm sure I
was the only 11 year old kid in Canada to have a car in his own name.
Well, fast foreward a couple years, and I've been driving her ever since
I got my license.....racked up just a tick over 80,000 miles and I
thought it would be nice if I could make "Val" REALLY out-perform
everybody else's 5.0's and Camaro's. Well, next weekend, I've go a nice
set of 360 heads coming back from the shop, I found a nice 4bbl manifold
from a friend (5 bucks for it) and another friend gave me an 800 cfm
ThermoQuad. All this stuff is going to get bolted on next weekend and
we'll see how "Val" likes her new parts. :-)

My other car I came across back in High School. One day in shop class,
doing an oil change on "Valerie", my teacher walks up to me and tells me
he has a real surprise coming in on a truck today at lunch. (He's a Ford
lover, and he knows I love Mopar) Lunch being next, I decided to stick
around to see what was coming in. The truck arrived late (and I missed
Math class....don't tell my mom!) with the most beautiful machine I'd
ever seen. There she was, sitting on the back of a flat-deck truck, was
"Tessie", a 1968 Chrysler New Yorker 2 door Hardtop....still in most of
her original Silver Metallic Paint. I instantly fell in love. Of course,
my heart nearly broke when my shop teacher told me that the class was
going to make an abomination out of her....pull the 440 out and drop in
a GM 235 I-6 and make her into a Parade car!!! I nearly punched him out
right then and there! I asked why he wanted to do such a thing and he
told me that the 440 in her was seized. I didn't believe him. So I
pulled Valerie's Battery out, put it in Tessie and turned the
key.....the big old 440 slowly turned over....and didn't catch. Well, I
gave up, and put Valerie's battery back and the rest of the class pushed
Tessie out into the back lot. There she sat for nearly two years until
my senior year. During that time.....Tessie was defaced a
little....broken side mirror, broken antenna, flattened tires.....the
usual stuff disrespectful children do. Well, come my senior year, and
Tessie had not moved an inch. I couldn't stand to see such a glorious
machine sit and rot, so I took her under my wing and get her
moving.....I just knew she had the potential. (Body was solid, Interior
was spotless, odo only showed 94,000) Well, after investing nearly $500
dollars into her (New Ignition, Fuel Pump, Battery, Starter, replaced
600 Holley carb with 750 Holley, Belts, Plugs, Wires, Hoses, Tranny Kit,
Brake Shoes, Master Cylinder, Brake Lines.....etc.) I turned the key
about a month before grad and Tessie ROARED to life! Seeing that, my
shop teacher handed me all the papers he got with the car....turns
out....I'm only the 2nd owner....the first owner being the OLD principal
of my very high school!! Plans for Tessie include Dual Exhaust (which I
now have off of a very oddly equipped Newport), Pnuematic Trunk release
(off of that same Newport) AM/FM Thumbwheel radio, Quadraphonic
Underdash 8-track player (installed now), and If I can ever find one, an
air conditioning unit.....most canadian cars don't need A/C.....but I'd
like it anyway. And seeing as how I have dual exhaust, the 750 cfm
carb....I'm saving up to buy a camshaft with the same grind as the TNT
motors did.....so I can say that I basically have a TNT motor.
Eventually, I would like to paint her Jet Black....(this car is so big,
it has it's own congressman!) The one thing I truly love about driving
Tessie, is how safe you feel. Given, the lap belts won't really help in
any collision.....but you are surrounded by so much metal and chrome,
that Pontiac Sunfires and Honda Civics would disintegrate upon contact
with Tessie!

Whew, that was a lot longer than I thought it would be. I've also
enclosed some pics of "Tessie" and "Valerie".
If you want to put them up on your page, that would be great.....but
neither are restored yet.....both kind of "In Progress"

Thanks for taking the time to read my life story (basically)
Darrin.
---
Rick writes of his "Pro-Streeted" 1969 Dodge Dart GTS...
"This car was originally a 383 auto car it was a pale yellow (yuck). It is now
Brite Aqua Metalic with a black stripe. The motor is a 440 punched .60 over
with closed chambered heads, the cam is a .613 lift ultra dyne. The motor
is 13.5 to 1 compression. The rear end has 4:89 gears with a strange spool
and strange axles. The car has a four link under it with a track locator and
15x 15 centerline wheels with 21.50x 33x 15 Mickey Thompsons. It has been on
the front cover of Chrysler Power mag. and i take it to shows regularly. We
also have a 73 SE dodge Charger a 93 Duster and a 98 Dakota R/T. i really
like your web site.

---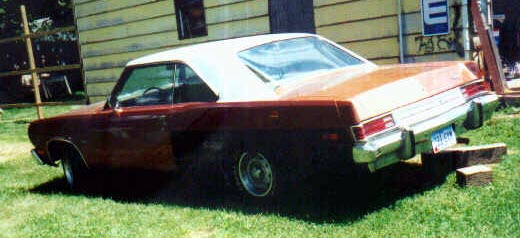 Mitch writes about his 1974 Plymouth Scamp (above):
"Here is a picture of a 74 scamp that I bought for $500, I am the current
second owner of the car. It has a 8 3/4 posi rear end, air-rear defogger,
deluxe sound, disk brakes and all other options except moon roof. The 318 in
can top out a 180 with aluminum heads. If any one has iny parts or info on scamps feel free to IM me or email me."

Mitch's AOL Instant Message name: DodgDatona
Mitch's email address: [email protected]
---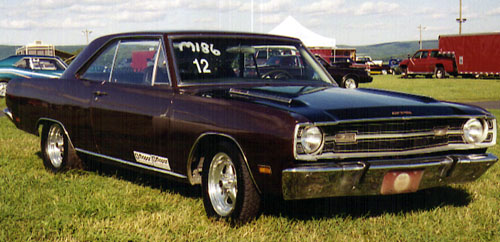 David Mackey sends details of his brother's (Bob Mackey's) 1969, Dodge Dart GTS. Check out David's Plymouth Fire Arrow...

340 cid bored .40 over
MP 508 Hyd "Purple Shaft"
Crane "Gold" Roller Rockers
Edelbrock RPM duel plane
Holley 750 DP
MP Electronic Ing.
727 Tourqueflight
A.T.I high stall converter
8 3/4 with 4:56

Best E.T. 12.03 @ 112.47 Numidia Raceway
---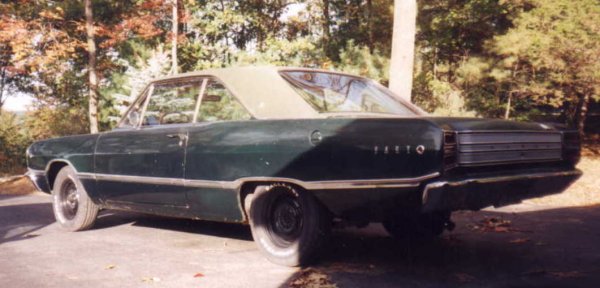 James Schuler writes of his 1968 Dodge Dart GT...
"Great page Lee! Here is my sickness-'68 Dart GT, originally a 273 (now 318)
with automatic and power steering in TT1 med. metallic green which has been
painted over dark green and light green vinyl top. I am in the planning and
dismantling stages of rebuilding it. Plans are now to build up the 318,
keep the 904 trans and replace the small rear with an 8 incher. The
emphasis will be on suspension and braking upgrades. However, before the
mechanicals must be the rust repair. I plan to drive eight or so months out
of the year which is a lot here in New Hampshire. I traded an '85 Lebaron
Convertible for it-someone said I'll be kicking myself twenty years from
now. But hey, if I wanted an investment I'd buy gold."
---

Dave Meiklejohn writes about his gorgeous '72 Plymouth Duster 340...

"I just came across your great website. My name is Dave Meiklejohn from Johnstown PA (The Floodcity) This is my fully restored (by second owner I'm the third) 1972 Duster 340. It is a 4-speed 3.55 suregrip, pwr steering, tuff wheel, manual drum brakes, bucket seats, rallye wheels, am radio, interior decor package export model, it was however never exported. It lived all of its life in Colorado till I bought it in spring of 1999. I have won several 1st place trophies and it was photographed by Greg Rager for a feature in High Performance Mopar that should be appearing over the next several months. It is as I stated a total and correct restoration inside and out and the engine compartment is completely factory fresh, bored thirty over, hardened valve seats and runs like the day it was made (better!) I hope you like it and would be thrilled to have it included on your website. my email is [email protected]"
---
Return to Visitor's Rides Index
Return to Lee Herman's MOPAR Page
Page last updated 02/28/01 01:26 AM