The MOPAR Power Club "B" body collection
(The later years...)
Below is Bill B. Jr's 1971 Dodge Charger R/T. It's equipped with a 440 Magnum V8, automatic transmission and Air Grabber Hood (detail photo also shown).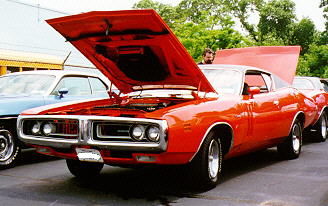 ---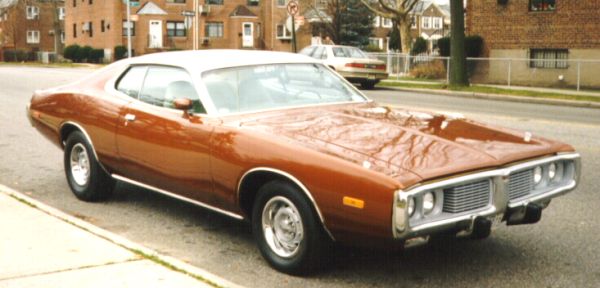 Joe D's 1973 Dodge Charger is a one owner car. His dad bought the car on April 5 1973 and it's been in the family since then. The car is slightly modified. It has a 360 Super Commado engine with a Turbo Action 727 TorqueFlite transmission, Griffen radiator, air conditioning, power steering, power brakes, 8 1/4 rear with 4:10 gears and power windows. The car has 300,000 miles on the body and was restored in 1993.
---
Above is John M's daily driver, a 1974 Dodge Charger Special Edition. It's equipped with a 318 C.I.D. V8, automatic transmission, power windows and air conditioning.
John's latest toy is the '74 Dodge Charger Rallye shown above. It's 1 of 213 equipped with the 440 cubic inch "Magnum" V8 and automatic transmission. It's also equipped with power steering, power brakes, and an 8 3/4" rear with 3.55:1 gears. It was built in August of 1973, making it one of the first '74 Chargers built. Note the lack of a stripe in the photo on the left. It was left off after initial restoration and added recently.
---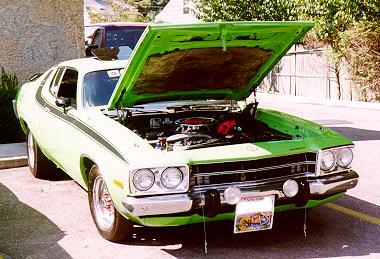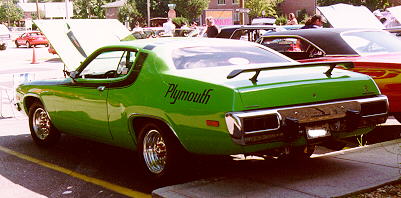 Shown above is Andre S's modified 1974 Plymouth Road Runner. It's currently equipped with a 360 C.I.D. V8 with four barrel carburetion, .528" lift hydraulic camshaft, 9:1 compression ratio, 727A Torqueflite automatic transmission, and 8 3/4" Sure Grip rear end with 4.10:1 gear ratio.
---
Above is Mike H's 1974 Plymouth Satellite Station Wagon equipped with a 360 cubic inch engine with four barrel carburetor, automatic transmission, power steering and disc brakes, and factory air conditioning). The car was purchased from the proverbial "little old lady" by Steve K. (check out his '63 Plymouth Savoy). Since he had no particular use for it, he used it as a "storage shed" for some of his car part collection. When Mike suddenly found himself in need of a wagon, Steve sold it to him. At the time of purchase it had a mere 17,000 miles on the odometer. It required only a tune-up, oil change, and new tires to be road-worthy after years of non-use. It's now his daily driver. Check out Mike's 1970 Plymouth Superbird.
---
Return to MOPAR Power Club member rides index
Return to Lee Herman's MOPAR Page
Page last updated 01/28/00 02:40 AM -0000