The 1999 MOPAR Nationals
Well, we finally made it. I picked up Steve in Flushing, Queens on Thursday, August 12th at 6AM. We drove to the Bronx to meet Peter and his 1971 Dodge Challenger convertible at 6:30 AM. From there it was off to Columbus, Ohio. My first trip to the MOPAR Nationals and my first LONG trip with the Dart.
Our first rest stop was in Denville, New Jersey off of Route 80. We consulted briefly with Mayor McCheese and his aides (below)...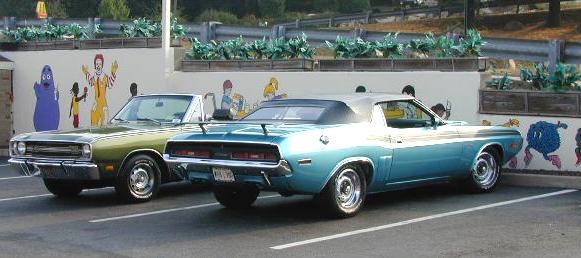 We made numerous gas and rest stops along the thirteen hour/600 mile drive (especially since the Dart only got around 12 MPG!). One of the stops was a scenic overlook by the Delaware Water Gap (below).
.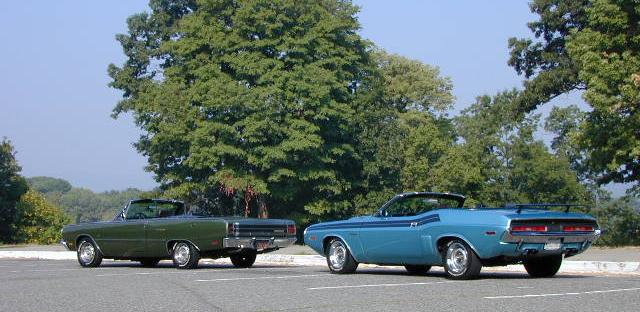 The drive to Ohio was uneventful. We had perfect driving weather (clear, sunny, around 80 degrees with low humidity). Both cars ran flawlessly and I had my CD "boom-box" and a bottle of SPF 45 suntan lotion to keep me company. We arrived at the Courtyard by Marriott in Columbus by around 8:30PM, had dinner at the hotel and passed out.
Friday morning, the first day of the MOPAR Nationals. Hazy, hot and HUMID. It was 93 degrees and REALLY felt like it. A tip to those considering going to the 'Nats next year. Get to the track EARLY. We got NEAR the track by 9AM and it took over 45 minutes to get INTO the track. We took in much of the swap meet and the "fun field" (the non-judged show cars) and left by 4PM to prepare for the Brice Road festivities. Five minutes from the hotel we drove into a brief but memorable thunderstorm. I had to pull over and put up the top before I drowned (Pete and Steve were driving with the top up and the a/c on - shame!). Rain blowing sideways still made it into my car through gaps between the convertible top and side windows!
By Friday evening the brief storm ended. We went to dinner and then to Brice Road. By the time we got to Brice Road (around 6:30PM) the crowds were gathering quickly. We parked the cars and stood around watching the festivities until 10PM. The Reynoldsburg police were out in force making sure that things were kept safe and that traffic flowed well. Nonetheless, there were plenty of people bold enough to do some seriously smoky burnouts, plenty of onlookers throwing water on the streets to help the willing participants, and plenty of cops to write tickets. We chose to leave by 10PM but not before doing a lap of Brice Road. Naturally, half-way through our cruise we were blessed with a torrential downpour. Pete and I both stopped in the middle of Brice Road to put up our convertible tops. The trip back to the hotel was in the rain.
We arrived at National Trails Dragway early on Saturday in cool, misty weather. The mist and light drizzle persisted through the late afternoon. By the time we left the track the weather had dried up, we went to dinner and back to Brice Road. On this evening, the police presence early in the evening was light and the activities got a bit out-of-hand (in my humble opinion). There were times where the tire smoke was so thick that you couldn't see across Brice Road. Dangerous AND stinky. By the time the police showed up in force, we left, made our one lap (no burnouts) and left. I've heard that there may not be any more Brice Road cruise after this year's problems. That WOULD be too bad since I feel that the cruise was the most fun part of our adventure.
On Sunday we returned to National Trails Dragway for the last time. We took one last lap through the swap meet, finished checking out the cars in the "fun field" and went to the other side of the track to check out the judged show cars. The weather was partly sunny and surprisingly cool but a definite pleasure after Friday's heat and Saturday's drizzle. We finished up early, had lunch and went back to the hotel for some rest. After a nice dinner, we went back to the hotel early and went to sleep to rest for Monday's return to New York.
On Monday we left Ohio at 8:45AM in sunny and somewhat humid conditions. Again, lots of gas and rest stops, but the cars ran perfectly. We arrived in New York by around 9PM. Below, a photo of Peter in his Challenger at 70 MPH on Route 80 taken by Steve from the front seat of my Dart.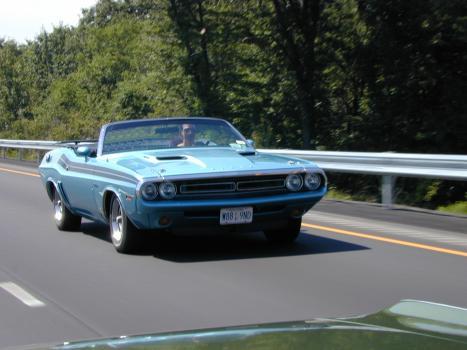 My review of the event...
This was a trip that was worth making once. The show cars were nice (and of course were all MOPAR), but I can see cars that are as nice or nicer at the Bellmore cruise or at one of my car club meetings. Prices at the swap meet were ridiculously high. Aside from a subscription to MOPAR Collector's Guide, an event shirt, and a "Dart GT" umbrella, the only thing I bought was a "Mr. G's" rechromed and detailed instrument cluster bezel. My main reason for going was to experience the Brice Road cruise. I did it and was glad, but if in fact the cruise is eliminated, so is my incentive to return.
If I do go back to Columbus in the future, I expect that I'll fly and rent a car. It won't cost a lot more than driving (it cost over $200 in gas and tolls), will save wear on the car, and I won't have to worry about leaving the car in a hotel parking lot or driving in the rain. Anyway, that's my $.02 on the subject, so on to the photos of the event...
---
Note: The following pages have lots of photos. Please be patient and allow them to load. They're worth the wait.
CAR PHOTOS
If a car that appears within these pages is yours and you would like it removed OR would like to add to its description please send me an email.
The list of vehicles shown is broken down by Chrysler Corporation's platform code identification.
"A"-body models include:
1964-76 Plymouth Valiant,1964-69 Plymouth Barracuda, 1970-76 Plymouth Duster, 1972-76 Plymouth Scamp 1964-76 Dodge Dart, 1971-72 Dodge Demon, 1973-76 Dodge Dart Sport, 1969-76 Dodge Dart Swinger
"B"-body models include:
1965-70 Plymouth Belvedere, 1965-74 Plymouth Satellite, 1968-74 Plymouth Road Runner, 1970 Plymouth Superbird, 1967-71 Plymouth GTX, 1965-74 Dodge Coronet, 1968-71 Dodge SuperBee,1966-74 Dodge Charger, 1969 Dodge Charger Daytona
1999 MOPAR Nationals "B" body (Page 1 - Through 1968)
1999 MOPAR Nationals "B" body (Page 2 - 1969 models)
1999 MOPAR Nationals "B" Body (page 3 - 1970 through 1972)
1999 MOPAR Nationals "B" Body (page 4 - 1973 through 1974)
"C"-body models include:
All 1965-74 full-size Chrysler models (Newport, New Yorker, Imperial), 1965-74 full size Dodge and Plymouth models (Polara, Monaco, Fury, Sport Fury, etc.)
"E" body models include:
1970-1974 Plymouth Barracuda and 1970-1974 Dodge Challenger
AMC Models:
Trucks:
1999 MOPAR Nationals MOPAR Trucks
Miscellaneous MOPARs:
Not enough of any one model to warrant their own pages, but important nonetheless.
1999 MOPAR Nationals Miscellaneous MOPARs
DaimlerChrysler concept vehicles:
1999 MOPAR Nationals concept vehicles
Race cars/race photos:
1999 MOPAR Nationals race cars/race photos (page 1)
1999 MOPAR Nationals race cars/race photos (page 2)
Car show isle photos:
1999 MOPAR Nationals isle photos
---
BRICE ROAD PHOTOS
---
Return to Lee Herman's MOPAR Page
Page last updated 01/27/01 11:45 PM -0000