My favorite toy…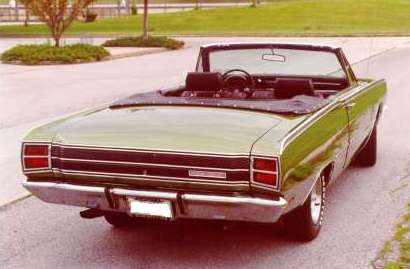 …So there I am at the alignment shop asking why my rear tires keep wearing out…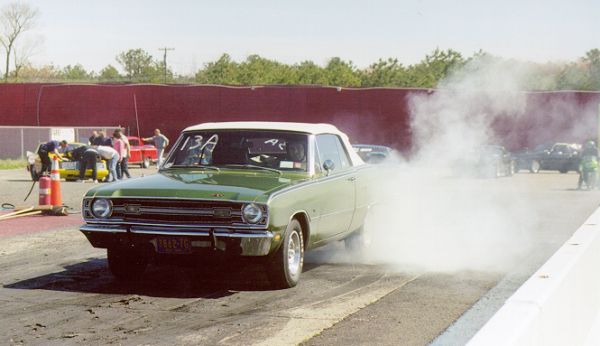 My 1969 Dodge Dart GT convertible (above/below)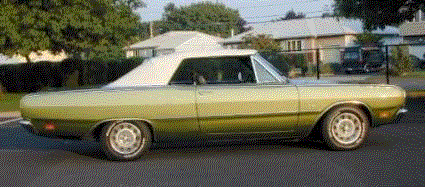 Hear how she runs. Click below…
---
My mission in creating this web site:
To generate interest in the vintage automobile hobby, especially, but not exclusively the creation of interest in vintage Chrysler Corporation products. My main focus has been, and probably will continue to be vehicles of the musclecar area (generally the late '50's through early '70's).
I initially created this site in February 1996 to learn about the internet, web-site development, and to show off my car. I'd received lots of favorable feedback indicating that I've succeeded on both accounts, and that there's lots of interest in this stuff.
Based on feedback received, and my experiences with other related web-sites (such as those within my "list 'o links", I made changes to the site, such as providing information to the "MOPAR community" as well as photos. The site includes information on V.I.N. Decoding, engine specifications and restoration resources (where to buy/sell cars and parts). I used a "frames" format, which allows viewers to more easily navigate the numerous pages that make up this site, and I sorted photos by make/model of car (in the visitor's rides section). I also added a search facility to allow visitors to search the text of this site by key words.
As always, suggestions, comments and constructive criticism welcome.
---
Navigating this site:
The icons located in the frame to the left are links to my main features. Each of those pages will have a link back to the main page (this one). If you're not seeing the frame, you've followed an incorrect link. Go to / to see the framed navigation bar. For those of you who would rather not be bothered with the frames, I've added text links at the bottom of this page.
Additionally, other assorted features will have links toward the bottom of this page.
WARNING! This web site is VERY photo intensive. I've made the photo files as small as I could without sacrificing quality. Please be patient and allow the images to load. They're worth the wait!
---
What's New…
All MOPAR Power Club information and photographs have been moved to the club's official web site. Please check it out and join the club!
9/28/2002 – A few new photos of the "Dippy"; my 1987 Dodge Diplomat. New and improved with "cop wheels", new tires, and new five-leaf rear springs.

9/28/2002 – Updated my List O' Links page to get rid of "dead links" and added a bunch of new stuff.
---
Web statistic services provided by Web-Counter.
Please note…special thanks to Micheal and the guys at Q-GRAFIX & DESIGN for their much improved version of my "flashing tailights" graphic! Check out more examples of their excellent work at http://www.qgrafix.com.